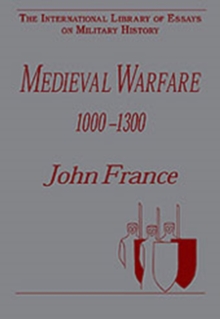 Medieval Warfare 1000-1300
Hardback
Description
The study of medieval warfare has developed enormously in recent years.
The figure of the armoured mounted knight, who was believed to have materialized in Carolingian times, long dominated all discussion of the subject.
It is now understood that the knight emerged over a long period of time and that he was never alone on the field of conflict.
Infantry, at all times, played a substantial role in conflict, and the notion that they were in some way invented only in the fourteenth century is no longer sustainable.
Moreover, modern writers have examined campaigns which for long seemed pointless because they did not lead to spectacular events like battles.
As a result, we now understand the pattern of medieval war which often did not depend on battle but on exerting pressure on the opponent by economic warfare.
This pattern was intensified by the existence of castles, and careful study has revealed much about their development and the evolving means of attacking them.
Crusading warfare pitted westerners against a novel style of war and affords an opportunity to assess the military effectiveness of European methods.
New areas of study are now developing. The logistics of medieval armies was always badly neglected, while until very recently there was a silence on the victims of war. Assembled in this volume are 31 papers which represent milestones in the development of the new ideas about medieval warfare, set in context by an introductory essay.
Information
Format: Hardback
Pages: 644 pages
Publisher: Taylor & Francis Ltd
Publication Date: 20/07/2006
Category: General & world history
ISBN: 9780754625155
Also in the The International Library of Essays on Military History series | View all