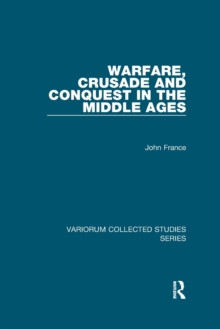 Warfare, Crusade and Conquest in the Middle Ages
Paperback / softback
Description
This volume brings together a series of articles by John France, published over a span of more than forty years, covering a number of aspects of the military and crusading history of the Middle Ages, both in Europe and the Near East.
An interest in understanding how war worked and why informs a first group of articles, ranging from Carolingian armies to the organisation of war in the 13th century.
The focus then turns to the Crusades, the most ambitious conquests of the era, with a set of studies on the First Crusade and others on the manner and conduct of warfare in the territories of the Latin East.
The volume also includes a major unpublished analysis, co-authored with Nicholas Morton, of the problems faced by the local Islamic powers in the early Crusading period, reminding us that an army is only as strong as its enemies permit, and suggesting that the crusaders should be seen in this light.
Information
Format:Paperback / softback
Pages:374 pages
Publisher:Taylor & Francis Ltd
Publication Date:12/12/2019
Category:
ISBN:9780367879471