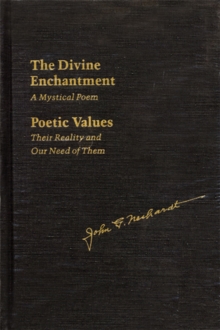 The Divine Enchantment : A Mystical Poem and Poetic Values: Their Reality and Our Need of Them
Hardback
Description
The creative energy that would in time produce A Cycle of the West and Black Elk Speaks is apparent in his first book, The Divine Enchantment, published in 1990 when he was nineteen years old.
It can be viewed as an early version of the philosophy of spiritual awareness that Neihardt articulated twenty-five years later in Poetic Values.
They are reprinted together for the first time in this Landmark Edition.
A narrative poem bursting with youthful enthusiasm, The Divine Enchantment reveals Neihardt not as an ordinary poet but as a visionary bard.
Inspired by his reading of Eastern philosophy, it is a Hindu myth with Christian parallels.
The virgin heroine, Devanaguy, fulfills prophecy in bearing Krishna, the incarnation of Vishnu, in spite of imprisonment by a jealous and fearful king.
Neihardt's vision of the union of spirit and matter, of reason and higher consciousness, introduces themes he was to expand on in his later writings. Poetic Values, a series of lectures published in 1925, speaks of the common need for self-enlightenment.
Drawing on sources ranging from the Upanishads to psychology textbooks, Neihardt argues that poetry can provide a balanced philosophy to live by in bridging the gap between Western materialism and Eastern otherworldliness.
Poetry links the objective with the subjective, the real with the imaginary, and for the reader of Poetic Values, as for the heroine of The Divine Enchantment, the highest self-enlightenment comes with self-forgetfulness.
Blair Whitney writes that, in comparing these two works, "one can see [Neihardt's] strong, consistent development from a boy who loved words and had big dreams to a mature poet who found ways to realize his ideals and to communicate them to a large audience of readers."
Information
Format: Hardback
Pages: 144 pages
Publisher: University of Nebraska Press
Publication Date: 01/02/1989
Category: Poetry by individual poets
ISBN: 9780803233195
Free Home Delivery
on all orders
Pick up orders
from local bookshops