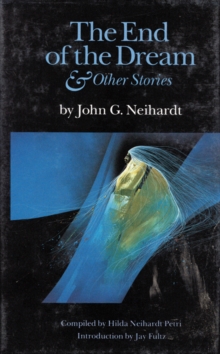 The End of the Dream and Other Stories
Hardback
Description
Originally published at the beginning of the twentieth century, the short stories of John G.
Neihardt deserve to be better known. Their flesh-and-blood Indians were practically unprecedented in an era when the fiends of dime novels and idealizations of Cooper were still the literary norm.
Owing much to young Neihardt's intimate association with the Omahas at their reservation in eastern Nebraska, the stories were of an Indian cast that perplexed the critics.
They were often overlooked as the years brought laurels to the author of A Cycle of the West and Black Elk Speaks.
A closer look at them reveals that Neihardt was a disciplined artist from the very beginning. The nine stories in this volume appeared from 1901 to 1905 in the Overland Monthly; five were collected in The Lonesome Trail in 1907.
All of them are informed by Neihardt's experience among Omaha Indians and shaped by the power of his imagination.
Except for "A Prairie Borgia," which clearly touches on the notorious Chief Blackbird's relations with traders, all are set in the time before contact with white men.
Love and hate, kindness and cruelty, hope and despair, generosity and envy, honesty and guile, spiritual impulse and sexual desire operate in this wholly Indian world. "The End of the Dream," 'The Triumph of Seha," and "The Smile of God" are patterned on vision quests issuing in profound irony.
The social outcast who figured in Neihardt's Indian Tales and Others (1927, a Bison Book), appears again in adventures with a cosmic, and sometimes fantastic, dimension.
These stories, as well as "When the Snows Drift," "The Beating of the War Drums," "The Fading of Shadow Flower," "The Singing of the Frogs," and "The Spirit of Crow Butte," have an inwardness reflected by vivid imagery.
Their quality led Dr. Susan LaFlesche Picotte, the daughter of Joseph LaFlesche (Iron Eyes), last chief of the Omahas, to exclaim that Neihardt was the only writer in a long line extending from Cooper to Frederic Remington who possessed "a true understanding of Indian character."The stories were compiled by Neihardt's daughter, Hilda Neihardt Petri.
In his introduction Jay Fultz discusses their cultural context and artistic integrity.
Information
Format: Hardback
Pages: 115 pages, 2 b&w illustrations
Publisher: University of Nebraska Press
Publication Date: 01/02/1991
ISBN: 9780803233263
Free Home Delivery
on all orders
Pick up orders
from local bookshops