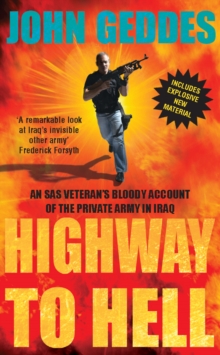 Highway to Hell
Paperback
Description
"Anyone entering Iraq must travel the road from Amman to Baghdad along the Fallujah by-pass and around the Ramadi Ring Road.
It's the most dangerous trunk route in the world used as a personal, fairground shooting gallery by insurgents and Islamists with rocket propelled grenades and Kalashnikovs.
For newcomers to the country it's terrifying -- but hell only really begins when that first journey ends..." Present-day Iraq: a crucible of torture, chemical warfare and Islamic terrorism, and straddling over it all the mighty US Army and its allies; but there's another western army in Iraq that dwarfs the British contingent and is second only in size to the US Army itself. It's a disparate and anarchic multi-national force of men gathered from twenty or more countries numbering some 30,000.
It's a mercenary army of men and a few women with guns for hire earning an average of $1,000 dollars a day.
They are in Iraq to provide security for the businessmen, surveyors, building contractors, oil experts, aid workers and, of course, the TV crews who have flocked to the country to pick over the carcass of Saddam's regime and help the country re-build. Not since the days when the East India Company used soldiers of fortune to depose fabulously wealthy Maharajas and conquer India for Great Britain, and mercenaries fought George Washington's Continental Army for King George, has such a large and lethal independent fighting force been assembled.
Once upon a time such men were called freelances, mercenaries, soldiers of fortune or dogs of war, but today they go under a different name: private military contractors.
There's a far more fundamental sea change, too, as women have joined their ranks in significant numbers for the first time, bringing a new and interesting dynamic into the equation. In Iraq today the majority of their number are men who come from 'real deal' Special Forces units or former soldiers from regular units and regiments; all of them know what they're about and rub shoulders together more or less comfortably with at least a shared understanding of basic military requirements.
One such man is John Geddes, ex-SAS warrant officer and veteran of a fistful of hard wars who became a member of the private army in Iraq for the eighteen months immediately following George W.
Bush's declaration of the end of hostilities in early May 2003.
Now, for the first time, John Geddes will reveal the inside story of this extraordinary private army and the private war they are still fighting with the insurgents in Iraq.
Information
Format: Paperback
Pages: 368 pages
Publisher: Cornerstone
Publication Date: 03/05/2007
ISBN: 9780099499466
Free Home Delivery
on all orders
Pick up orders
from local bookshops