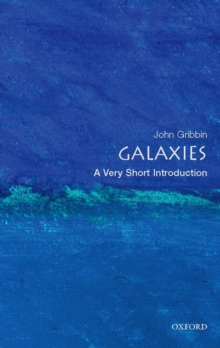 Galaxies: A Very Short Introduction
Paperback
Description
Galaxies are the building blocks of the Universe: standing like islands in space, each is made up of many hundreds of millions of stars in which the chemical elements are made, around which planets form, and where on at least one of those planets intelligent life has emerged.
Our own galaxy, the Milky Way, is just one of several hundred million other galaxies that we can now observe through our telescopes. Yet it was only in the 1920s that we realised that there is more to the Universe than the Milky Way, and that there were in fact other 'islands' out there. In many ways, modern astronomy began with this discovery, and the story of galaxies is therefore the story of modern astronomy.
Since then, many exciting discoveries have been made about our own galaxy and about those beyond: how a supermassive black hole lurks at the centre of every galaxy, for example, how enormous forces are released when galaxies collide, how distant galaxies provide a window on the early Universe, and what the formation of young galaxies can tell us about the mysteries of Cold Dark Matter. In this Very Short Introduction, renowned science writer John Gribbin describes the extraordinary things that astronomers are learning about galaxies, and explains how this can shed light on the origins and structure of the Universe.
ABOUT THE SERIES: The Very Short Introductions series from Oxford University Press contains hundreds of titles in almost every subject area.
These pocket-sized books are the perfect way to get ahead in a new subject quickly.
Our expert authors combine facts, analysis, perspective, new ideas, and enthusiasm to make interesting and challenging topics highly readable.
Information
Format: Paperback
Pages: 136 pages, 20 black and white halftones
Publisher: Oxford University Press
Publication Date: 01/12/2008
Category: History of science
ISBN: 9780199234349
Free Home Delivery
on all orders
Pick up orders
from local bookshops
Reviews
Showing 1 - 2 of 2 reviews.
Review by misericordia
16/06/2015
Reach down and find a grain of sand. Pick it up and hold it lightly between your thumb and fore finger. Hold that out at arms length. Swing it up to the sky. OK how many galaxies are in the sky cover by that grain of sand? Well according to the Hubble Ultra Deep Field photograph 10,000. Reading John Gribbin's book Galaxies: A Very Short Introduction can make you feel pretty mediocre. That's because you should! John Gribbin explains the scientific principle that says you should! His book is a great at explaining the complex and mediocrity of our galaxy to the layman. It explains everything about galaxies. Starting with the discover of our galaxy and the other to to the theories of how they will end. With eight chapters in a 3 by 5 inch binding this book covers the most complex questions facing Astronomy today. What is Dark Matter, Dark Energy? Was the lambda constant Einstein's biggest mistake or not? How will the Universe end; Big Crunch, Slow Fade, or Big Rip. If you want an understanding all of these things but don't have the advance degree in science this is the book to read.
Review by AnnieMod
16/06/2015
I've had an year of Astronomy in high school. It was part of the science program that was making sure that we leave school with enough knowledge about any science that we choose to continue pursuing. I am pretty sure that I had forgotten most of what I had been taught but the thing that stayed with me had always been that unlike Physics, when we talk about Astronomy, most of what we know is actually hypothesis - and things can change overnight (even if it is less and less likely). Because of that and because it was an year long subject, the galaxies and almost anything outside of the Solar system was covered within weeks - and most of the year was covering the Solar System, the physics of the spacetime and other measurable events. These were the early days of the Hubble telescope when data was coming daily and the first papers were being written (it took a bit longer for textbooks to catch up by by 1999 when I was leaving school, some of it had tricked down). I had not read a book on the subject since (unless if you count a few books on earth formation which are related but were glancing over anything before Earth started forming). I've read some news but the field is so far from what I chose to do with my life that it had been more in the cases when something made the news than me actually pursuing any news on the topic. So a very short introduction sounded as a great place to get up to speed - I generally like the series and it is short after all. As it turned out, as with most of those books, short does not mean cursory or incomplete. Gribbin is a very good storyteller and the story is fascinating. He managed to cram within 112 pages more information than I would have expected in a 500 pages book and somehow made it sound compelling enough. Starting with the first telescope (and despite what I believed, it is not Galileo's) and moving through centuries if research, Gribbin introduces not just what we believe the galaxies are today but also how we got there (things had not changed much in some ways - we still have hypothesis which we believe to be the truth but still it is more theoretical than anything else. Although things had been proven more than once with different techniques which is enough to call it a fact. For now). Gribbin leads you on a journey through the discoveries of Hubble and Einstein (including his biggest blunder... which time proves to be anything but - one of those cases in science where a decision made for the wrong reasons turns out to be the correct decision - albeit for different reasons), through the ever evolving technology that allows us to see more and more and through a science that is so completely out of this world that getting your head around it is hard. He does nor shy away from formulas (although he is write most of them in words and not in scientific characters) or from the hard topics. And he takes you deeper and deeper into the scientific explanation of what a galaxy is. Gribbin is also very good in not introducing topics too fast - such as the distance in timespace terms. Talking about how far galaxies is are and how we calculate that is hard enough even without introducing look back time. Once the point of how things get calculated and why is clear, he brings the next concept - which allows the reader to not get overwhelmed. And once he helped you understand where we are, he takes a step back and describes in detail the origin, the current status and the future of the galaxies and the universe. Of course noone knows what will happen so he presents the most likely hypothesizes - and the good news is that the Universe has at least as much time as had already passed - chances of human life surviving that long is not that high so we won't see what happens. Despite its brevity, the book is choke full of information and requires attention while reading. It is worth the work though - it is one of the better books on any scientific topic I had read in a while and even if it does not give you all the answers, it gives you enough of an introduction to be able to read other books or sites and not get confused in the terminology, calculations and theories. Highly recommended for anyone interested in the field - even if it was written 7 years ago and there may be a lot of new research in the field, the basics are the same and none of the book had been disproved (yeah... I actually went online and did some cursory research after that). There is new data but none of the theory had changed - except that it is more and more likely that this is exactly what happened. Warning: Not for people that do not believe in the Big Bang.
Also in the Very Short Introductions series | View all