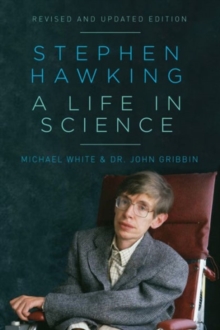 Stephen Hawking - A Life in Science
Paperback
Description
Stephen Hawking is no ordinary scientist. Perhaps more than any other scientist, he has broadened our basic understanding of the universe.
His theoretical work on black holes and the origins and nature of the cosmos have been groundbreakingif not downright revolutionary.
He has also spent much of his adult life confined to a wheelchair, a victim of ALS.
But his physical limitations have done nothing to confine him intellectually or hinder his scientific development.
Hawking would already be remarkable for his cutting-edge work in theoretical physics alone.
However, he has also managed to popularize science unlike any one else.
Today, he is a household name and achieved almost cult-like fame with the release of A Brief History of Time.
Although this book is steeped in the complexities of cosmology, millions of people were eager to learn just some of what he had to offer.
Science writers White and Gribbin have painted a compelling portrait of a scientific mind that seemingly knows no bounds.
Weaving together clear explanations of Hawking's science with a detailed, balanced, and sensitive personal history, we come to know and appreciate both sides of this incredible man.
Includes new updates in Hawking's biography and the recent discovery of the Higgs-Boson (or "God") particle.
Information
Format:Paperback
Pages:300 pages
Publisher:
Publication Date:28/04/2017
ISBN:9781605989402
Other Formats
EPUB from £1.99
Paperback / softback from £13.85