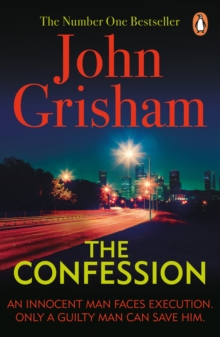 Description
An innocent man is days from execution. Only a guilty man can save him. Travis Boyette is a murderer. In 1998, in the small East Texas city of Sloan, he abducted, raped, and strangled a popular high-school cheerleader.
He buried her body so that it would never be found, then watched and waited as police and prosecutors arrested Donte Drumm, a local football star with no connection to the crime. Tried, convicted and sentenced, Drumm was sent to death row: his fate had been decided.
Nine years later, Donte Drumm is four days from execution.
Over 400 miles away in Kansas, Travis faces a fate of his own: an inoperable brain tumour will soon deliver the end.
Reflecting on his miserable life, he decides to do what's right.
After years of silence he is ready to confess. But how can a guilty man convince lawyers, judges and politicians that they're about to execute an innocent man?
Information
Format: Paperback
Pages: 464 pages
Publisher: Cornerstone
Publication Date: 26/02/2011
Category: Political / legal thriller
ISBN: 9780099545798
Other Formats
EPUB from £3.99
CD-Audio from £13.75
eAudiobook MP3 from £7.20
Free Home Delivery
on all orders
Pick up orders
from local bookshops
Reviews
Showing 1 - 3 of 3 reviews.
Review by readingwithtea
27/08/2015
"The prosecution's theory of guilt had been based in part on the desperate hope that one day, someone, somewhere would find Nicole's body"A murderer confesses to a minister. A wrongly convicted man is headed for the death chamber. Can justice prevail?Grisham is pounding on his social justice soapbox loudly with this one: we hit capital punishment, race relations and church bureaucracy. He's back to his Street Lawyer activism by writing (I think, anyway; it might all be a ploy to sell more copies). And yet there is a sad despondency to it all; nothing really changes. Without wanting to have spoilers, it doesn't turn out as well as one might hope, and the epilogue suggests that nothing will ever really change.Grisham is back to writing memorable characters and in The Confession he has two "good guys" worth talking about (my other favourite Grishams had one very strong lead – The Rainmaker, The Street Lawyer, The Testament): Robbie Flak and Keith Schroeder. Robbie is brilliantly combative and tender at once; it is clear that the family of the wrongly accused are very close to his heart, but I wouldn't want to be a politician in his cross-hairs. Schroeder is the opposite – a softly spoken Kansas church minister with a litany of home commitments, who finds his calling in helping a self-confessed murderer and rapist cross state borders to stop misguided justice's wheels.As in The Testament there is no shortage to our comic cast of ridicule; Reena Yarber is one of the truest, least self-aware mountains of hypocrisy I've ever come across in literature. That she is prepared to exhaust her family and friends to fuel the spiral of her attention-seeking grief makes her eventual mockery on television cruelly suitable. And as for Boyette – no attempts to redeem him from his sleazy, filthy existence are made, he just trundles along being as disgusting as a cloud of noxious cigarette smoke.The pace drags a little in the build-up: will Boyette go south or won't he? The race riots are over-built (although still powerful) and there's too much time spent in the governor's office. Otherwise, the plot works well – and I was surprised that the book reached a fully fleshed-out conclusion well after the climax, an unfortunately rare occurrence in thrillers.If you felt Grisham lost his way with Playing for Pizza and The Painted House, he's back on the road with this one.
Review by RennyRoo
16/06/2015
When my friend read this book last year she was literally glued to it. I don't know how about you, but for me, this is the best recommendation for a book, especially when you know that you two have very similar taste in books. So as you can imagine, I was very keen to put this book on my (ever-expanding) 'to be read' pile. I read one or two of Grisham's books years ago and I was really glad that this one appeared on my book club list. Well, truth to be told, I helped it to appear… Yep, killing two birds with one stone So what do I think about the book? Apart from few minor criticisms, I thought that the book was very good, thrilling, fast paced and gripping. I don't know whether Grisham's seasoned readers would agree with me as I am not in a position to judge whether this book is better/average/below average than his other books. But as I said before, I don't read Grisham that often and maybe that is why I totally enjoyed the book.Without giving you any spoilers here, I would like to say, that all parts of the book have their merits and I didn't expect to invest as many emotions into reading the book as I did (and I was ready to invest quite a few ). I think it is fair to say that the book will leave you with more questions than it gives answers and leaves you thinking about the story long after you finish the book. For me, the description of the Texan death penalty system and it's ins and outs was eye-opening. I know that the book is fiction, but I can easily see how something similar can happen in real life.Little snippet from the book:"… but as he watched the preliminaries unfold, he was struck by the coldness, the ruthless efficiency, the sanitized neatness of it. It was similar to killing an old dog, a lame horse, or a laboratory rat. Who, exactly, gives us the right to kill? If killing is wrong, then why are we allowed to kill? As X stared at Y, he knew the image would never go away. And he knew that he would never be the same."Now the criticisms. Well, for once, I just thought that all the characters were too neatly cut – good guys on one side, bad guys on the other. Everything seemed black and white (literally) not only in the characteristics of the people involved in the story, but also the society was clearly divided by colour. I think that this also had impact on the fact that for me the characters felt bit two-dimensional. We are given a bit of background information about some of the characters, but we could have been given a little bit more. That still didn't stop me to ponder what would I do and how would I feel if I was in the shoes of each of the mums, the priest and the defence lawyer.So, if you fancy a decent read that would challenge your perceptions and opinions then go ahead, you will enjoy this one!
Review by jepeters333
16/06/2015
In 1998, Travis Boyette raped and murdered a popular high school student in Sloan, Texas. To his amazement, Donte Drumm, the school's football star, was wrongly convicted of his heinous crimes and sent to death row Now nine years later, Travis, who has an inoperable brain tumor and is stricken with guilt, decides to confess in a bid to save Donte, who has just four days before his execution.