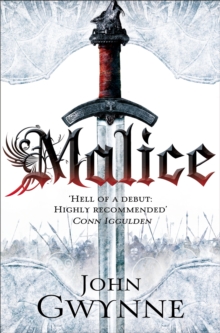 Description
Called a 'Hell of a debut' by bestselling author Conn Iggulden, Malice by John Gwynne is the first in The Faithful and the Fallen series.Young Corban watches enviously as boys become warriors, learning the art of war.
He yearns to wield his sword and spear to protect his king's realm.
But that day will come all too soon. Only when he loses those he loves will he learn the true price of courage.
The Banished Lands has a violent past where armies of men and giants clashed in battle, the earth running dark with their heartsblood.
Although the giant-clans were broken in ages past, their ruined fortresses still scar the land.
But now giants stir anew, the very stones weep blood and there are sightings of giant wyrms.
Those who can still read the signs see a threat far greater than the ancient wars.
Sorrow will darken the world, as angels and demons make it their battlefield.
Then there will be a war to end all wars. High King Aquilus summons his fellow kings to council, seeking an alliance in this time of need.
Prophesy indicates darkness and light will demand two champions, the Black Sun and the Bright Star.
They would be wise to seek out both, for if the Black Sun gains ascendancy, mankind's hopes and dreams will fall to dust.
Information
Format: Paperback
Pages: 640 pages
Publisher: Pan Macmillan
Publication Date: 04/07/2013
Category: Fantasy
ISBN: 9780330545754
Free Home Delivery
on all orders
Pick up orders
from local bookshops
Reviews
Showing 1 - 1 of 1 reviews.
Review by wyvernfriend
16/06/2015
This would have scored better if it hadn't been for the google translate of Irish with English grammar that appears in two chapters. P448-9 has "Mise toil abair tusa faic"; "muid ga an iarann go cearta airim, ar an cogadh" and "An dia cogadh" and on page 494 we have "Athru mise, folaigh mise, cloca mise, talamh bri" and if the author paid for this, he needs to get his money back.We have a vaguely celtic plot in the treasures of the Daghda, we have a blacksmith's apprentice who has hidden talents and has several teachers who are trying to ensure he is prepared for his mysterious future and several factions (that we follow, a la George R R Martin). However the author could also have added in a bit more of a variety of names, several of them were very similar.It isn't a bad read, but it didn't overwhelm me, some of the characters sound like they might make things interesting in the future and I'm curious about what how the gods are going to influence things. It's somewhat a cross between Eddings and Martin.The author still needs to realise that cultural appropriation can happen with Irish/Celtic culture too and needs to be less sloppy with it.
Also in the The Faithful and the Fallen series | View all