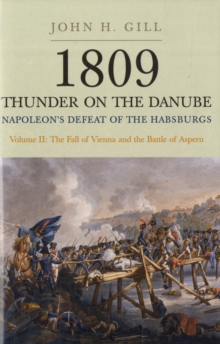 1809 Thunder on the Danube : Napoleon's Defeat of the Habsburgs Fall of Vienna and the Battle of Aspern v. 2
Hardback
Description
In the second volume of this epic work, John H. Gill traces Napoleon's progress as he sought to complete his victory over the Habsburgs.
The war had erupted on April 10th with Austria's invasion of Germany and Italy.
After just two weeks, Napoleon had battered the Habsburg Archduke Charles in a series of bruising defeats.
This volume begins with a Napoleon astride the Danube at Regensburg.
He faced a critical strategic choice - whether to pursue the injured Austrian main army into Bohemia or march directly for Vienna, the seat of Habsburg power.
After electing to target Vienna, his troops defeated the Austrians in the brutal Battle of Ebelsberg, allowing him to enter the city on May 13th.
But meanwhile, on the far side of the Danube, he suffered a dramatic loss at the gruelling, two-day Battle of Aspern.
While his Danube forces recovered from this setback, the Emperor cleared trouble from his strategic flanks.Gill describes in vivid detail the hopeful Habsburg invasion of Italy, led by the 27-year-old Archduke Johann, and the fierce French counter-offensive under Napoleon's stepson, Eugene de Beauharnais (also aged 27). In a series of encounters across Italy, de Beauharnais rebounded from initial defeat to advance triumphantly into Austrian territory, shattering and scattering Johann's army.
In the wake of Aspern, while the Austrians vacillated, Napoleon gathered every man, horse and gun around Vienna, setting the stage for the gigantic spectacle of the Battle of Wagram, the final chapter in the story of the 1809 war.
Information
Format: Hardback
Pages: 512 pages, 16 pages of plates
Publisher: Pen & Sword Books Ltd
Publication Date: 20/11/2008
Category: European history
ISBN: 9781848325104
Free Home Delivery
on all orders
Pick up orders
from local bookshops
Reviews
Showing 1 - 1 of 1 reviews.
Review by Ammianus
16/06/2015
Jack Gill has successfully accomplished a task to which few others authors can aspire. He, along with James Arnold, can actually get me to read about the Austrian army of the Napoleonic wars. This second volume in his planned trilogy on Napoleon's 1809 campaign is an incredible work of art. Incredible scholarship, coupled with cogent analysis and a highly readable style (refreshingly breezy at times with ironic wit). These volumes are obviously a labor of love for the author. Wargamers and military historians will benefit from Jack's amazingly in depth order of battle research. The author has a firm grasp of operational principles, the personalities of the major players, has walked the terrain etc. A great set of books by a master.