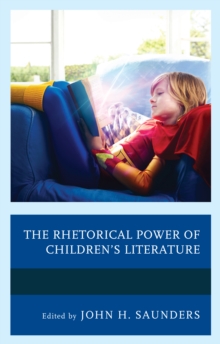 The Rhetorical Power of Children's Literature
Hardback
Description
The Rhetorical Power of Children's Literature is an edited volume with contributions from established and new scholars of rhetoric offering case studies that analyze a full array of genres in children's literature from picture books to young adult novels.
Collectively, this volume's contributions interrogate how children's literature is a powerful yet under examined space of rhetorical discourse that influences one of the most vulnerable segments of our population.
This book is singularly unique given that it will be the first collection of essays on children's literature from the distinct perspective of the field of Communication.
Beyond topical novelty, the contributors utilize a range of scholarly methods to analyze instances of the rhetoric of children's literature.
Consequently, essays in this volume may be read for both their specific topical content and as exemplars for multiple methodological approaches to the study of the rhetoric of children's literature.
Collectively, the contributors set out to contribute to our knowledge of how instances of children's literature operate as rhetorical discourses.
The volume is organized by case studies approached through critical, rhetorical lenses that analyze specific instances of children's literature from two distinct stages of children's developmental reading experiences including pre/early literacy and fluent reading.
Structurally, the book includes eight content chapters divided evenly with four chapters analyzing books for young children and four chapters analyzing books targeting audiences from late-childhood to adolescence.
An overview of each content chapter accompanies this proposal.
Information
Format:Hardback
Pages:192 pages
Publisher:Lexington Books
Publication Date:21/12/2016
Category:
ISBN:9781498543293
Also in the Children and Youth in Popular Culture series | View all