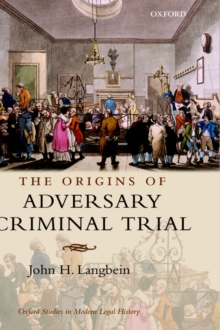 The Origins of Adversary Criminal Trial
Hardback
Description
The adversary system of trial, the defining feature of the Anglo-American criminal procedure developed late in English legal history.
For centuries, defendants were forbidden to have counsel, and lawyers seldom appeared for the prosecution either.
Trial was meant to be an occasion for the defendant to answer the charges in person. The transformation from lawyer-free to lawyer-dominated criminal trial happened within the space of about a century, from the 1690s to the 1780s.
This book explains how the lawyers captured the trial.
In addition to conventional legal sources, Professor Langbein draws upon a rich vein of contemporary pamphlet accounts about trials in London's Old Bailey.
The book also mines these novel sources to provide the first detailed account of the formation of the law of criminal evidence. Responding to menacing prosecutorial initiatives (including reward-seeking thieftakers amd crown witnesses induced to testify in order to save their own necks), the judges of the 1730s decided to allow the defendant to have counsel to cross-examine accusing witnesses.
By restricting counsel to the work of examining and cross-examining witnesses, the judges intended that the accused would still need to respond in person to the charges against him.
Langbein shows how counsel manipulated thedynamics of adversary procedure to defeat the judges' design, ultimately silencing the accused and transforming the very purpose of the criminal trial.
Trial ceased to be an opportunity for the accused to speak, and became instead an occasion for defense counsel to test the prosecution case.
Information
Format: Hardback
Pages: 376 pages, 11 halftones
Publisher: Oxford University Press
Publication Date: 06/02/2003
Category: British & Irish history
ISBN: 9780199258888
Free Home Delivery
on all orders
Pick up orders
from local bookshops
Also in the Oxford Studies in Modern Legal History series | View all