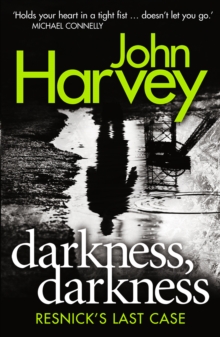 Darkness, Darkness : (Resnick 12)
Paperback
Part of the Resnick series
Description
"A war between the past and the present, in a place wracked by guilt and vengeance, a country torn into pieces.
A brilliant, important and moving book about the legacy of 1984, and where and who we are now". (David Peace). The final DI Charlie Resnick novel, from the Cartier Diamond Dagger winner and Sunday Times bestselling author of Cold in Hand.
Thirty years ago, the Miners' Strike threatened to tear the country apart, turning neighbour against neighbour, husband against wife, father against son - enmities which smoulder still.
Resnick, recently made up to inspector, and ambivalent at best about some of the police tactics, had run an information gathering unit at the heart of the dispute.
Now, in virtual retirement, and still grieving over the violent death of his former partner, the discovery of the body of a young woman who disappeared during the Strike brings Resnick back to the front line to assist in the investigation into the woman's murder - forcing him to confront his past in what will assuredly be his last case.
Information
Format: Paperback
Pages: 432 pages
Publisher: Cornerstone
Publication Date: 25/09/2014
Category: Crime & mystery
ISBN: 9780099590958
Free Home Delivery
on all orders
Pick up orders
from local bookshops
Reviews
Showing 1 - 1 of 1 reviews.
Review by Eyejaybee
16/06/2015
Detective inspector Charlie Resnick has seen fine service over the years, since he first appeared in 'Lonely Hearts' in 1989, solving a succession of murders in Nottingham in between consuming elaborately constructed sandwiches and upmarket coffee, looking after his menage of cat and listening to vintage jazz.Resnick is not a dynamic man - years of loyal support for Notts County Football Club have worn the spark out of him - but he is awash with humanity, and it has always been clear that he really cared about the victims of the crimes he had to investigate. This latest volume sees him in retirement but, like Ian Rankin's more bellicose retired inspector, John Rebus, he has returned to the outer reaches of the fold, helping out in a semi-official capacity in a lower rank. Of course, John Harvey has sold us the dummy a couple of times before, leading us to believe that both 'Last Rites' and then, some years later, 'Cold in Hand' would be Resnick's last outing.Thirty years ago Resnick had been part of a team gathering intelligence on the activities related to the Miners' Strike which was then in full swing, leading to bitter encounters in may Nottinghamshire villages where many of the miners were still working. Back in the present day, a body is uncovered in Bledwell Vale, one of the villages in the north of the county where the divisions of the Miners' Strike had been felt most fiercely. The pathologist's report suggests that the body dates from that period, and Resnick is plunged back into his memories, many of which are less than happy. As always, Resnick is immensely believable. This time, however, rather than leading the investigation he is almost the hired help, assigned to support Detective Inspector Catherine Njoroge, a rising star of CID who has had to contend with overcoming prejudice within the ranks against her on three counts - as a woman office, as someone of Ghanaian descent and as a graduate on the fast track to inspector. She is, however, a supremely capable detective. She may differ from Resnick in her investigative provenance, but she too has a great sensitivity, and the reader senses that in different circumstances they might have made a very powerful team.Harvey captures the East Midland dialogue very ably - having grown up nearby I am almost embarrassed to see the local tongue caught on paper! The plot is very well constructed too, and the characterisation is spot on. Harvey, and Resnick, are both in mid-season form here. A sparkling addition to the Resnick canon, and a fine note on which to end.If only it had referred in passing to Loughborough, as so many of the previous Resnick books do, it might have scored a five!