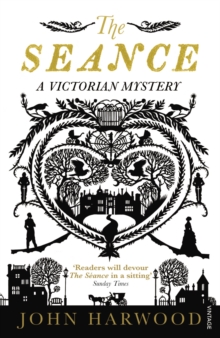 Description
London, 1881. Constance Langton lives in a gloomy home with a distant father and a grief-stricken mother; seeking refuge and comfort, she secretly attends a seance which has tragic consequences.
Left aone, her only legacy is a mysterious inheritance that will blight her life and take her deep into a world of apparitions, betrayal and blackmail, black-hearted villains - and murder.
Information
Format: Paperback
Pages: 304 pages
Publisher: Vintage Publishing
Publication Date: 01/03/2009
Category: Crime & mystery
ISBN: 9780099516422
Other Formats
EPUB from £3.99
eAudiobook MP3 from £19.28
Free Home Delivery
on all orders
Pick up orders
from local bookshops
Reviews
Showing 1 - 5 of 6 reviews.
Previous | Next
Review by phoebesmum
16/06/2015
Almost the best thing I can say about this book is "I liked the cover". It's a pastiche of the great Victorian Gothic novel, with overtones of Wilkie Collins. Sadly, the great Victorian public had more patience and more time on their hands than I do, and had also been less exposed to popular culture (there having been less of it around at the time) and were thus possibly less able to predict every. Last. Word of the storyline. There are no twists and no surprises: it does exactly what it says on the tin.To be fair, I quite enjoyed the first section, the saga of poor, sad Constance with her unloving father and her melancholic mother and how her urge to help said mother leads her to the fatal path of spiritualism, but as disaster and woe piled on disaster and woe I was, once again, irresistibly reminded of Edward Gorey. When the perspective shifted and the next narrator took up the story I found myself skipping and, in the end, just read the last section, in which Constance picks up the narrative again, and found that, actually, I had missed almost nothing at all.I will give it credit for this. On learning that her nursemaid's mother had had five children die, Constance naturally assumes that she must have been even more grief-stricken than Constance's own mother, who had lost only one child. "But no, said Annie, there had been no time for mourning; her mother had been too busy looking after the rest of them." Melancholia was and, I suppose, still is, strictly a middle-class privilege.
Review by shirley8
16/06/2015
Really enjoyed this book.
Review by irkthepurist
16/06/2015
oh so tantlisingly close to being more than very good - oh so tantilisingly close! harwood's "the seance" is well crafted, with a truly monstrous villain (all the more so because he;s such a measured presence in the book) and believable heroines and some passages of real, tangibile tension. but... it's really a pastiche victorian sensation/ crime novel which never really achieves what it wants to do. for my money even something with such modest intentions as the railway detective books by andrew martin are more successful than this - modest aims, but brilliant achievements for the historic background and attention to detail in jim stringer's world. this - is simply just very enjoyable, which is a damned shame because harwood is obviously a very clever writer. the idea of marrying victorian sensation fiction with the slightly literary style of wilkie collins and the crime fiction of john dickson carr is a very good one. sadly it's more a pastiche of other pastiches in the end. the plot works, but at times seems hurried and muddled, and in the end it just reiterates to me what a phenomenal piece of work charles palliser's "the quincunx" is - pastiche, crime novel and postmodern literary masterpiece. with just a bit more effort harwood could have done something special and truly memorable. as it is, it's just a fun read. shame really
Review by bibliobeck
16/06/2015
The back blurb says read it if you like being scared out of your wits. I can't say I found the book scary at all, however this didn't lessen the enjoyment factor for me. It really was a fabulous story. It put me in mind of Wilkie Collins' The Woman in White, which is one of my favourites. This novel has all the essential ingredients of a classic Victorian tale: the is-she-isn't-she mad scenario, the is-he-isn't-he really menacing husband, a spooky mystery, threats of the madhouse, disapproving mothers, diamonds disappearing under mysterious circumstances... what a treat! I'd love to see this made into a drama, I'm certain it would absolutely hook the viewer as the book had me hooked from start to finish. I love the writing style and read this book far too late into the night than is sensible on a weekday. I had this book on my wish list for ages before finally buying it and I can't believe I waited so long - I'll definitely be looking out for more by this author.
Review by adpaton
16/06/2015
After the somnambulistic Eleanor Unwin falls down a staircase and cracks her head while asleep, she starts to see strange visions - more specifically, she sees dead people. But is she actually seeing ghosts, or are these hallucinations brought about by her fall? Constance Langton on the other hand has no doubt she is NOT able to communicate with the dead, but her mother's insane grief at the death of her youngest child leads Constance to pretend to go into a trance and talk to spirits in an attempt to bring her parent comfort.When Constance inherits the ruined and notorious Wraxford Hall from an unknown relative, lawyer John Montague advises her to have nothing to do with it and gives her his private memoir to explain the background to the hall and his connection to Eleanor Unwin - who married then, supposedly, murdered both Magnus Wraxford and her baby daughter. The story is told in the form of complimentary narratives: memoirs, diaries and letters with alternating points of view give all sides of the story; a device that mirrors the techniques of several Victorian writers, including Wilkie Collins, and Harwood handles it very well. So well in fact that the reader forgets exactly how subjective and misleading [deliberately so or not] reported speech and personal accounts can be. Suffice it to say the story is not what one expects at the start - more Northanger Abbey than The Mysteries of Udolfo - and while some plot points are predictable, these are more than outweighed by the delightfully Gothic twists and turns of an excellent Victorian pastiche.