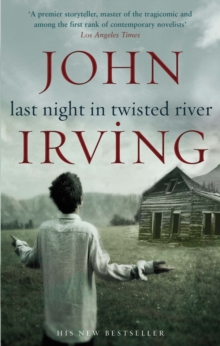 Last Night in Twisted River
Paperback
Description
In 1954, in the cookhouse of a logging and sawmill settlement in northern New Hampshire, a twelve-year-old boy mistakes the local constable's girlfriend for a bear.
Both the twelve-year-old and his father become fugitives, pursued by the constable.
Their lone protector is a fiercely libertarian logger, once a river driver, who befriends them.
In a story spanning five decades, Last Night in Twisted River - John Irving's twelfth novel - depicts the recent half-century in the United States as a world 'where lethal hatreds were generally permitted to run their course.' From the novel's taut opening sentence to its elegiac final chapter, what distinguishes Last Night in Twisted River is the author's unmistakable voice, the inimitable voice of an accomplished storyteller.
Information
Format: Paperback
Pages: 672 pages
Publisher: Transworld Publishers Ltd
Publication Date: 12/06/2010
ISBN: 9780552776578
Other Formats
EPUB from £3.99
Paperback from £10.65
Free Home Delivery
on all orders
Pick up orders
from local bookshops
Reviews
Showing 1 - 4 of 4 reviews.
Review by YossarianXeno
16/06/2015
This was the first John Irving novel I've read and I wasn't sure what to expect, though the critics seem to rave about him. The plot was interesting and intriguing; the characterisation very good. But somehow, and too often, reading the book felt like hard slog; it perhaps could have benefited from editing with a view to reducing the length. Perhaps the hype had overly raised my expectations, but overall I felt disappointed by this book.
Review by jerryhall
16/06/2015
Great book and engrossing read. Tragic, funny and fulfilling. Strong characters and story.
Review by eleanor_eader
16/06/2015
John Irving is not an 'entire works' author for me, because I've found that while I always enjoy his writing, I'm not truly engaged in the plots or characters of any but the best of them. When he nails all the elements, though, his writing lifts his stories into the stratosphere, leaving the reader with much to think about afterwards. <i>Last Night in Twisted River</i> is one of his best of his books in this regard. Dominic and his son, Daniel, are forced to flee the logging town in which Danny was raised, when the boy accidentally kills the girlfriend of the psychopathic local sheriff. They become fugitives, aided from afar by the hard-nosed logger Ketchum, a force of nature and Danny's (if not the book's) hero. They build lives and abandon them as the sheriff, 'Cowboy' Carl, remains implacably devoted to tracking them down. The father and son theme that runs through the story is the important one, but as usual Irving brings American history strongly into focus and uses friendship and community to give the book a resounding depth. There's an element of metafiction, clever enough to add a layer of interest, not obtrusive enough to elbow the story out of the way. Reading the short but enlightening author's note at the back of the book I realised something I might not otherwise have noticed – Irving says he was a fan of those earlier British authors who could wield a plot – Dickens, and, notably, Thomas Hardy… I think he's picked up something else from Hardy, too; that aura of fate, that not-quite-coincidence that drives a plot tragedy-wards; he's not nearly as bleak as Hardy, but inevitability plays a large role in <i>Last Night in Twisted River</i>. I think that <i>The Cider House Rules</i> will remain my favourite Irving novel; <i>…Twisted River</i> suffered (for me) from that author's playing with the time-line a little too much, although it worked where it was supposed to, in introducing major events before they happened and letting the reader stew over them, but otherwise this is one of the finest American books I've read. I'm dropping the 'contemporary' from the equation because there's something timeless about Irving's work. At a late point in the novel, Danny as an author sees a display in a book shop of history and fiction together, where the fiction was chosen to give atmosphere to the factual history accounts. If that's the shelf that Irving himself is aiming to fill, I'd say <i>Last Night in Twisted River</i> is his flagship book in that regard… he returns to themes (Vietnam, most notably), that he's introduced before, but the scope is much wider than that – from the temporarily thriving logging town to the fall of the towers in the 9/11 attacks, Irving takes on America's own definition of itself as another theme. So while <i>The Cider House Rules</i> remains my favourite, if a reader were going to pick up one novel of Irving's for a sense of who he is as a writer, this is the work that I'd instantly recommend.
Review by mumfie
16/06/2015
My enthusiasm waned around 200 pages in when I thought 50 odd pages could easily have been cut. But apart from that blip this is another of Irving's enjoyable, if overlong, works with another slightly insane story that is strangely logical in a twisted way.In the Author's Note Irving says this is the first time he has written about his own method of writing in his stories, assigning it to his great novelist of a main character. The book is self-referential adding more than one metaphorical twist to the literal twists of the river.It's not one of his best but I enjoyed the detailed and lengthy descriptions and side roads taken; these are part of what makes Irving so unique.