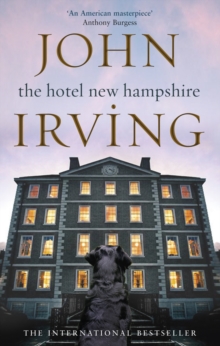 The Hotel New Hampshire
Paperback
Description
'The first of my father's illusions was that bears could survive the life lived by human beings, and the second was that human beings could survive a life led in hotels'.
So says John Berry, son of a hapless dreamer, brother to a cadre of eccentric siblings, and chronicler of the lives lived, the loves experienced, the deaths met, and the myriad strange and wonderful times encountered by the family Berry.
Hoteliers, pet-bear owners, friends of Freud (the animal trainer and vaudevillian, that is), and playthings of mad fate, they 'dream on' in this funny, sad, outrageous, and moving novel.
Information
Format: Paperback
Pages: 528 pages
Publisher: Transworld Publishers Ltd
Publication Date: 01/06/1986
ISBN: 9780552992091
Free Home Delivery
on all orders
Pick up orders
from local bookshops
Reviews
Showing 1 - 5 of 7 reviews.
Previous | Next
Review by xtien
16/06/2015
I like John Irving. His writing is entertaining, even if the plot is slow. This is not a book you try to finish fast. You just enjoy the reading. The book is about a father who starts a hotel again and again, and fails. Despite failures, he and his kids become heroes, and rich. In the end, he succeeds in having a hotel of his own where he's happy, and contributing to society - beit not in the way he thinks.
Review by SimoneA
16/06/2015
I read the word 'haunting' in one of the reviews here, and that is one of the best words for this book, maybe combined with 'perverse'. However, I still loved reading this book and being with the Berry family in this haunting and perverse world for a while.
Review by phoebesmum
16/06/2015
Barking mad, and doesn't get any less so on a second reading. Bears = good; dead dogs, terrorists and incest = not so much, perhaps. Am forever haunted by Rob Lowe in the movie version.
Review by freddlerabbit
16/06/2015
I'm a huge fan of John Irving, and this is my favorite of his books.<p>This review will contain SPOILERS.<p>The book involves almost all of the usual Irving tropes - wrestling, hotels, New Hampshire, bears, sex and death (if he'd thrown in some dwarves, we would have had a perfect set). There are laugh-out-loud moments and cry-out-loud moments.<p>This book essentially details the struggles of a family with a lot of children as they face some of the more difficult things you could imagine, including terrorism, gang rape and the death of a parent. The troubles they face are almost outsize, but the snide wit and perseverance the family exhibits in the face of these things is heartwarming and engaging. And beneath the somewhat overblown facade, the novel allows the reader access to the many real struggles of children forced to be the parents in a family while still young and the difficulties of wanting something you just aren't supposed to have.
Review by Eyejaybee
16/06/2015
Most enjoyable. All of the regular features from John Irving's early novels were present - bears, motorcycles (and a bear on a motorcycle), Vienna, circus characters, dysfunctional families.The novel alternates in almost Dickensian fashion between moments of hilarity and others of heart-rending tragedy. A far more rounded and mature novel than its immediate predecessor, "The World According to Garp".