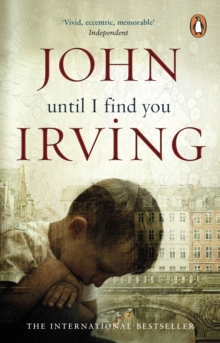 Until I Find You
Paperback
Description
'According to his mother, Jack Burns was an actor before he was an actor, but Jack's most vivid memories of childhood were those moments when he felt compelled to hold his mother's hand.
He wasn't acting then.' Jack Burns' mother, Alice, is a tattoo artist in search of the boy's father, a virtuoso organist named William who has fled America to Europe.
To fund her journey, she plies her trade in the seaports of the Baltic coast.
But her four-year-old son's errant father can't be found, and soon even Jack's memories of that perplexing time are called into question.
It is only when he becomes a Hollywood actor in later life that what he has experienced in the past comes into telling play in his present......
Information
Format: Paperback
Pages: 960 pages
Publisher: Transworld Publishers Ltd
Publication Date: 01/08/2006
ISBN: 9780552773126
Free Home Delivery
on all orders
Pick up orders
from local bookshops
Reviews
Showing 1 - 4 of 4 reviews.
Review by pontusfreyhult
16/06/2015
Standard John Irving fare; sex, school wrestling, some Wiennamania (although less than usual), a couple of unexpected deaths. As usual, the characters become persons (although it did take four or five hundred pages).Although not as good as A prayer for Owen Meany or Garp, John Irving fans will probably enjoy this. But considering that it's rather lengthy and the story isn't that great, it doesn't make for a very good introduction to the authorship.
Review by louise_rice
16/06/2015
I'm glad Bookclub made me read a John Irving title - it's one of those books I sometimes wanted to give up on but am glad I didn't, although very few of his characters appealed to me. His central characters, Jack Burns and his mother, are both selfish and self-centred, although Jack redeems himself with his father in the end. Won't rush to read more John Irving though, especially not if this is his 'magnum opus' as blurb suggests (I had heard of The World According to Garp but never read it).
Review by fizzy_fizz1
16/06/2015
A long long book. I had the feeling that alot of this could be left out and still make a good story. Loved the trips around Europe but the bits inbetween.... not really sure about
Review by LadyN
16/06/2015
Until I Find You is the fourth Irving novel I've read, but not my favourite.Jack Burns is a movie star retracing the steps of his childhood to discover that what we remember is not necessarily what happened. Constanly ill at ease with the absense of his father, this dominates his life and governs many of his choices and decisions.What I have previously admired about John Irvings writing is the detailed insight he gives the reader into his charcters and their histories. In this novel however, one really has to do that twice - learning as Jack does the two different versions of his past, the remembered and the actual. Until I Find You brings up several themes that Irving broaches in his other novels - sexual awakenings, fascination with older women, a young boy discovering through unconventional means about the (usually adult) world around him. I don't feel that it was done as well in this novel as it was in the others I've read. At times there was just too much sexual reference, and while much of it was crucial to Jack's later development, I'm not sure it was all absolutely necessary or believable. The closing chapters are very moving, and I'm glad I stuck with it to the end. I can imagine many readers may not have done. At times I got a little bored, but was left satisfied at the conclusion, in much the same way that Jack Burns may be.Plenty to get stuck in to.