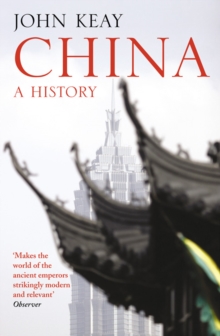 China : A History
Paperback
Description
Three thousand years of Chinese history in an accessible and authoritative single volume. Despite the recent rise of China to a position of dominance on the world economic stage, Chinese history remains an elusive subject.
Yet it is this vast narrative of appalling loss, superhuman endeavour and incredible invention that has made China the superpower it is today.
From the dawn of legend to the succession of great dynasties, from Confucius to Chairman Mao and from the clamour of revolution to the lure of slick capitalism, John Keay takes the reader on a sweeping tour through Chinese history.
This is a definitive and indispensable account of a country set to play a major part in our future.
Information
Format: Paperback
Pages: 512 pages
Publisher: HarperCollins Publishers
Publication Date: 25/06/2009
Category: Asian history
ISBN: 9780007221783
Other Formats
EPUB from £6.99
Paperback from £8.65
Free Home Delivery
on all orders
Pick up orders
from local bookshops
Reviews
Showing 1 - 1 of 1 reviews.
Review by jintster
16/06/2015
Keays notes in his introduction that while most educated westerners would have little difficulty in naming half a dozen Roman emperors, very few could name a single Chinese emperor. This is partly due to the difficulty westerners have in remembering Chinese names but also reflects a more general ignorance of Chinese history. I've certainly felt that deficiency myself for quite some time, but was unable to fine a book to rectify it. I was delighted to see positive reviews of Keays' one volume (535 pages) history and grabbed it soon after it came out in paperback. It does exactly what it says on the cover. It's naturally only an overview of China's long history from the mythical five emperors to workshop of the world. We see dynasties rise and fall and periods of terrible chaos and fragmentation in between. But there are patterns here and insights that hold true for nearly the whole of China's history (the Mao period being possibly the only exception). Legitimacy for Chinese rulers comes from history hence the confusing tendency for new dynasties to name themselves after old ones. Continuity is stressed over innovation and change, putting China at a terrible disadvantage when it comes to dealing with western powers and Japan in the C19th. Linked to this is the Confucian requirement that respect is always due to elders and ancestors and to an extent much greater than in other civilisations. Keays prose is decent on the whole, although he does have a tendency to use rather long-winded sentences at times. On the whole the narrative is as readable as it could be given the rather bewildering succession of similarly named emperors. The book does its job in giving the reader a basic overview of 3,000+ of Chinese history which can be used as a springboard to explore periods or themes in more detail. My only real quibble is that rather too much of the story is devoted to changes in the ruling elites. Keays feels he has to at least mention every emperor whether noteworthy or not. When he digresses to economic or social history its much more engrossing. Overall though, very solid.