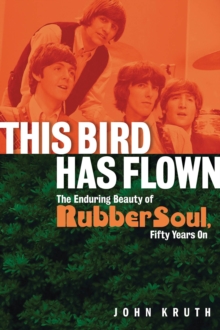 This Bird Has Flown : The Enduring Beauty of Rubber Soul, Fifty Years On
Paperback / softback
Description
The Beatles' sixth studio album ERubber SoulE was a game changer.
By December 1965 when the album was released the Beatles had played the first arena rock show at Shea Stadium for 55 000 delirious fans been awarded MBE (Member of British Empire) medals and were indisputably the greatest musical phenomenon since Elvis Presley.
With their first film EA Hard Day's NightE John Paul George and Ringo laid down the blueprint for everyone who ever wanted to form a group.
The movie entertaining as it was became an instruction manual for aspiring pop stars of the day on how to play dress and act.
Richard Lester's 1964 comedy turned out to be the touchstone for every music video that followed.THThen with the release of ERubber SoulE the Beatles created an artistic benchmark to which their peers measured their craft and creativity.
Touring the world over two years the band had grown up fast.
Both musically and lyrically their new album represented a major leap.
Upon hearing ERubber SoulE Bob Dylan allegedly remarked I get it you're not cute anymore. Newsweek hailed the Beatles as the Bards of Pop while critic Greil Marcus claimed Rubber Soul was the best album they would ever make. For Traffic's Steve Winwood the album broke everything open.
It crossed music into a whole new dimension and was responsible for kicking off the sixties rock era.
THIn EThis Bird Has FlownE John Kruth not only analyzes the songs and making of ERubber SoulE putting the album in context of the turbulent times in which it was created but captures the spirit of musical innovation and poetry that makes the record a standout in the Beatle's canon.
Information
Format: Paperback / softback
Pages: 232 pages
Publisher: Hal Leonard Corporation
Publication Date: 01/10/2015
Category: Music reviews & criticism
ISBN: 9781617135736