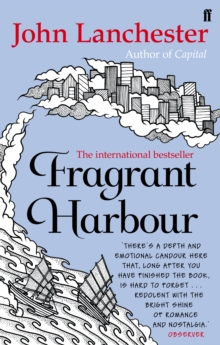 Fragrant Harbour
Paperback
Description
'It's Hong Kong,' she said. 'Heung gong. Fragrant harbour.'Fragrant Harbour is the story of four people whose intertwined lives span Asia's last seventy years. Tom Stewart leaves England to seek his fortune, and finds it in running Hong Kong's best hotel. Sister Maria is a beautiful and uncompromising Chinese nun whom Stewart meets on the boat. Dawn Stone is an English journalist who becomes the public face of money and power and big business. Matthew Ho is a young Chinese entrepreneur whose life has been shaped by painful choices made long before his birth.The complacency of colonial life in the 1930s; the horrors of the Japanese occupation during the Second World War; the post-war boom and the handover of the city to the Chinese - all these are present in Fragrant Harbour, an epic novel of one of the world's great cities.
Information
Format: Paperback
Pages: 320 pages
Publisher: Faber & Faber
Publication Date: 01/01/2013
ISBN: 9780571294855
Free Home Delivery
on all orders
Pick up orders
from local bookshops
Reviews
Showing 1 - 2 of 2 reviews.
Review by Eyejaybee
16/06/2015
John Lanchester has, I believe, written four novels to date, all markedly different from each other in tone, and three of them ('The Debt to Pleasure', 'Capital' and this one) would all rank among my all time favourites. 'Fragrant Harbour' is a superb novel spanning seventy years in the history of Hong Kong, told through the differing perspectives of four principal characters who each recount their own story. Tom Stewart's narrative forms the backbone of the novel and tells the story of a young man, born in Kent in 1913, who decides to try his luck in Hong Kong. While on the voyage he meets two Eurasian nuns (Sisters Benedicta and Maria) and various British men en route to pursue careers in the Far East. Following an argument between one of the other passengers and Sister Maria, a wager is held to test whether Tom can be taught the rudiments of Cantonese within the time span of the voyage. This is to prove immensely useful for him when he lands in Hong Kong and gradually determines to spend the rest of his life there. His idyll is interrupted by the onset of the Second World War and the Japanese invasion. Tom survives, and returns to Hong Kong where he becomes a prosperous hotelier.Meanwhile Sister Maria has been working for the various Catholic missions spread throughout the colony and also in mainland China. Her path continues to cross with that of Tom.The third character to provide a narrative is Dawn Stone, an ambitious British journalist who comes out to Hong Kong shortly before it returned to Chinese rule. She begins by investigating the origins of the wealth of the richest members of Hong Kong society, working on the premise that with such billionaires the interesting question is where the first millions come from (- the latter wealth is easy to generate in relatively open and legal ways, but how did they get their start-up capital?).The fourth narrative is that of Matthew Ho, a thrusting young entrepreneur who makes a cameo appearance early on when he sits next top Dawn Stone on her first flight to the colony.I recognise that this description might make it all sound rather cumbersome, not to say predictable. Lanchester, however, is a master storyteller and he succeeds in uniting all the various threads of the story with seamless ease, and evokes the reader's sympathy for all of his principal characters. He also manages to impart a huge amount about the history of Hong Kong, though this never impairs the flow of the novel.
Review by bodachliath
27/08/2015
I enjoyed this book hugely - a sort of history of Hong Kong since the 1930s told through the interlinked stories of 4 very different protagonists, full of rich descriptions and colourful characters, who reflect the changing nature of the society there. Lanchester also has a feel for language (not just English, since there is quite a lot on the nature of Cantonese). Parts of it also reminded me of J.G. Farrell's epic "the Singapore Grip", but Lanchester is a more sympathetic and less caustic narrator. Having read all four of John Lanchester's novels in the last few months, this one is probably the best.