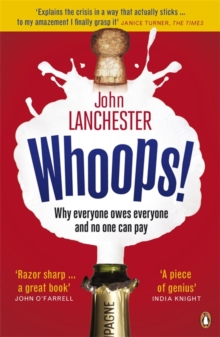 Whoops! : Why Everyone Owes Everyone and No One Can Pay
Paperback
Description
John Lanchester's Whoops! Why Everyone Owes Everyone and No One Can Pay is the unbelievable true story of the economic crisis. We are, to use a technical economic term, screwed. The cowboy capitalists had a party with everyone's money and now we're all paying for it.
What went wrong? And will we learn our lesson - or just carry on as before, like celebrating surviving a heart attack with a packet of Rothmans? John Lanchester travels with a cast of characters - including reckless banksters, snoozing regulators, complacent politicians, predatory lenders, credit-drunk spendthrifts, and innocent bystanders to understand deeply and genuinely what is happening and why we feel the way we do. 'Devastatingly funny ... the route map to the crazed world of contemporary finance we have all been waiting for' Will Self 'Bang on the money' Independent 'Explains the crisis in a way that actually sticks ... to my amazement, I finally grasp it' Janice Turner, The Times 'Endlessly witty ... will turn any reader into an expert within the space of 200 pages' Jonathan Coe 'Terrific ... there is no better guide to the crazy world of high finance' GQ John Lanchester is a journalist, novelist and winner of the Whitbread First Novel Award.
His fiction includes Mr Philips, The Debt to Pleasure and Capital.
He is a regular contributor to the London Review of Books and the New Yorker, with a monthly column in Esquire.
Information
Format: Paperback
Pages: 256 pages
Publisher: Penguin Books Ltd
Publication Date: 01/10/2010
Category: International economics
ISBN: 9780141045719
Free Home Delivery
on all orders
Pick up orders
from local bookshops
Reviews
Showing 1 - 3 of 3 reviews.
Review by anyotherbizniz
16/06/2015
The best "easy read" explanation of the credit crunch I have read to date. There are better evidenced and more detailed analyses to be had, but this is the best one I have seen so far for providing an explanation to non-economists. Oh yes, and it's funny too.
Review by Eyejaybee
16/06/2015
A fascinating analysis of how the recent economic downturn was allowed to happen, and how deregulation (to the point of willful negligence) made the crisis not merely possible but virtually inevitable. Lanchester writes with his customary clarity and offers a startlingly cogent yet comprehensive of all the factors that coincided so disastrously, and one finishes the book amazed that it hadn't all happened years before.
Review by vguy
16/06/2015
Fairly light trot through the recent financial crisis. Clear and explanatory with some good jibes and personal touches here and there, along the "Would you credit it?" lines. Makes clear how the thing got out of control because of the abandonment of personal interaction and the consequent collapse of trust. A striking part is the mathematisation of finance and the unreality it led to, eg the leading financier describing the collapse as a something-sigma event, meaning a i in umpteen trillion chance where the trillions are more than the seconds in the history of the universe, whereas the guy had in fact seen half a dozen fairly major financial fold-ups in his own lifetime. I found this especially interesting after Cox's "e = mc2", where the largeness and smallness of the working parts of the universe are indeed factual but unimaginable.