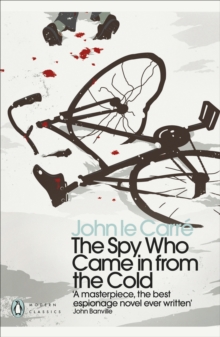 The Spy Who Came in from the Cold
Paperback
Description
From the master of spy thrillers, John le Carre's The Spy Who Came in from the Cold is a gripping story of love and betrayal at the height of the Cold War.
This Penguin Modern Classics edition includes an afterword by the author and an introduction by William Boyd, author of Any Human Heart.Alex Leamas is tired.
It's the 1960s, he's been out in the cold for years, spying in the shadow of the Berlin Wall for his British masters.
He has seen too many good agents murdered for their troubles.
Now Control wants to bring him in at last - but only after one final assignment.
He must travel deep into the heart of Communist Germany and betray his country, a job that he will do with his usual cynical professionalism.
But when George Smiley tries to help a young woman Leamas has befriended, Leamas's mission may prove to be the worst thing he could ever have done.
In le Carre's breakthrough work of 1963, the spy story is reborn as a gritty and terrible tale of men who are caught up in politics beyond their imagining. 'A portrait of a man who has lived by lies and subterfuge for so long, he's forgotten how to tell the truth' Time'He can communicate emotion, from sweating fear to despairing love, with terse and compassionate conviction.
Above all, he can tell a tale' Sunday Times
Information
Format: Paperback
Pages: 304 pages
Publisher: Penguin Books Ltd
Publication Date: 29/07/2010
Category: Espionage & spy thriller
ISBN: 9780141194523
Other Formats
Paperback from £6.29
eAudiobook MP3 from £8.10
Hardback from £15.09
CD-Audio from £12.95
Free Home Delivery
on all orders
Pick up orders
from local bookshops
Reviews
Showing 1 - 5 of 6 reviews.
Previous | Next
Review by gaskella
16/06/2015
This was the October choice for our book group and I must say it proved to be a popular one given that several of the group had moaned not a Le Carré when I suggested it; however this one's relative brevity, tautness and utter plausibility won out.Since the recent BBC Radio 4 dramatisations of the all Le Carré's George Smiley novels, I had been itching to start re-reading them. Spy, in which Smiley only makes some brief appearances, is the first and the one I've forgotten more than the others. The cover of the handsome new Penguin Modern Classics edition captured my imagination from the outset.Set shortly after the Berlin Wall was erected, Alec Leamas is due to come back in from the cold after spying in Berlin for years. He's seen it all, and survived – so far, but Control has one last mission for him before he can come home for good. In a big game of bluff, Control and Leamas set up a plan to catch Mundt, the German spymaster which will involve Leamas betraying his country. He's set up as a disgraced ex-spook, living in drab lodgings, a dead-end job, and drinking far too much. What he doesn't bargain for though is striking up a friendship with young co-worker Liz – a member of the Communist party who falls for him, and indeed she comes to mean a lot to Leamas too…Leamas is a wonderful character – having also seen the film ages ago, he came to life off the page for me very much in Richard Burton mode (perfect casting I thought), and this quote from the novel gets him to a T for me …"It was hard to place Leamas. If he were to walk into a London club the porter would certainly not mistake him for a member; in a Berlin night club they usually gave him the best table. He looked like a man who could make trouble, a man who looked after his money, a man who was not quite a gentleman."Leamas is also a consummate professional. During his life as a spy, he's always played a role, rarely allowed to be himself – but there are flashes here and there and underneath it all he's a tortured soul. The whole novel was suffused with these shades of grey – nothing is ever quite what it seems – you can trust no-one completely.Le Carré's third novel was the one that made his career take off. Legend has it that the British Secret Services gave it to all new spies to read and learn from but the self-effacing author insists that despite having been a spook for a while, it is all made up. Fantasy it may be, but it feels so real. It is also full of what we would call good old-fashioned 'spy craft' – there's none of the gloss of the current TV Spooks. It is anchored in its own zeitgeist, where the post-war legacy of the 1950s has yet to give way to the new youth-led culture of the 1960s. Then there is the wall looming over this book, that symbol of the Cold War, the then new barrier between them and us.
Review by In_The_Flesh
16/06/2015
A perfect book for anyone who has not been reading fiction/for pleasure for a while. It is written in a style which seems very efficient. It manages to create a sense of action and description with a limited amount of prose used. A fiction book, very much of its time. Written in at the turn of the 1960s, it portrays this early decade and the spy business, not as a glamerous and straight forward confrontation, a la Flemming's tradition, but as a confusing, bitter and ultimately cold existance, which is utilitarian in its nature. The style and writing of the book reflects this theme well, and the ultimate multiple bluffs that the book provides is skilled, in as much as it draws you into the conclusion you believe (or perhaps hope), but lifts several more veils that are present before the end.This is not to say that Le Carre holds back, or is guilty of assuming an arrogant withholding of information from the reader, to play his hand when he so chooses. In fact, the skill of his writing demonstrates that we are all duped by the establishment, and leaves the reader with the impression that trust cannot be something that enters into the discourse of both international diplomacy, but even more so with your own administrative establishment, where the idea of the 'Greater Good' is a true motivation with terrible and tragic consequences for any individual in the way.
Review by DavidSaul
16/06/2015
An excellent novel by one of the premier soy writers of our time, The Spy Who Came In From The Cold keeps you hooked from first to last as a complex plot unfolds at a fast pace.
Review by WorldInColour
16/06/2015
So... that was intense. Reading this book by ex-espionage member John le Carré felt like wandering through a James Bond film with some Tarantino dialogue. It's exciting, it's enticing, it's very clever and the ending really hits the spot.<br/><br/>Alec Leamas, a Western spy in Berlin, is given one last assignment before he must forcedly retire. Without giving too much away, Leamas falls for a simple librarian girl, the mission (of course) knows its difficulties and everything gets complicated. It's interesting as well to read about the protocols and measures used by espionage agents in this book, knowing very well that le Carré himself hails from the very same background and even had to write about it in great secret. <br/><br/>In short; perfect, enthralling holiday read. The book is designed to make you choose the wrong track time and time again, having you rethink your former ideas, but it all just comes together so well. Excellent.
Review by KymmAC
16/06/2015
Great read, not too hard to follow (me and spy novels). Interested to see how the antisemitism developed almost imperceptibly. Would have to read again to delve more deeply into repercussions. Liz seemed in the end much less innocent than presented.Ending was a total shock.
Also in the Penguin Modern Classics series | View all