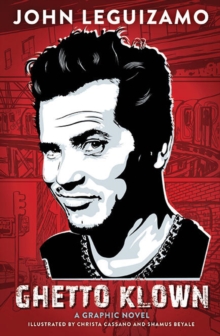 Description
In Ghetto Klown, John Leguizamo lays bare his early years, discovering acting and his career trajectory.
He shares his childhood memories and the tribulations of balancing life with old friends from his lower-income neighborhood in Queens while trying to maintain a professional persona.
He brings us onto the sets of TV series and major motion pictures opposite some of Hollywood's biggest stars, such as Al Pacino, Patrick Swayze and Steven Seagal and with directors like Baz Lurhrman and Brian DePalma. And Leguizamo opens up about his loves and marriages, while addressing his recurring feelings of self-doubt and melancholy in a way that enlightens and still entertains. Originally staged on Broadway in 2011, Ghetto Klown won Leguizamo the Drama Desk Award and Outer Critics Circle Award for Best Outstanding Solo Performance.
The show was later adapted into a highly rated HBO special in March 2014. Now, teaming up with Brooklyn-based artist and illustrator Christa Cassano, Leguizamo is sharing his life story as a vibrant, funny graphic novel memoir that is sure to reach a whole new audience.
Other Formats
Paperback / softback from £10.35