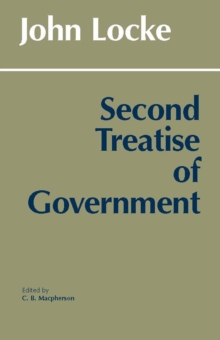 Second Treatise of Government
Paperback
Description
The Second Treatise is one of the most important political treatises ever written and one of the most far-reaching in its influence.
In his provocative 15-page introduction to this edition, the late eminent political theorist C.
B. Macpherson examines Locke's arguments for limited, conditional government, private property, and right of revolution and suggests reasons for the appeal of these arguments in Locke's time and since.
Information
Format: Paperback
Pages: 148 pages
Publisher: Hackett Publishing Co, Inc
Publication Date: 01/01/1980
Category: Political science & theory
ISBN: 9780915144860
Other Formats
Paperback from £2.99
Hardback from £10.99
PDF from £10.71
Paperback / softback from £4.97
EPUB from £1.07
Free Home Delivery
on all orders
Pick up orders
from local bookshops
Reviews
Showing 1 - 4 of 4 reviews.
Review by cestovatela
16/06/2015
This is the groundbreaking work of political philosophy that laid a philsophical framework for the existence of individual rights. Locke considers why people created government in the first place, using it as a basis to argue for a limited government with clear laws created to protect "life, liberty and property." Not exactly light reading for the poolside, but mandatory if you want to understand where the ideology of the US constitution came from.
Review by IAmChrysanthemum
16/06/2015
A very important work but one that I mostly disagree with (chapter 5, I'm looking at you).
Review by stillatim
16/06/2015
Yikes- I'd thought that, since so many liberals (or what in America are called, bizarrely enough, conservatives) take this as a kind of ur-text, it'd be, you know, good. My bad. I should have realized that quality of argument is totally superfluous in political matters. <br/><br/>Whatever he meant to say, Locke ends up saying very little. He says the state of nature is peaceable and pleasant... and that we form political societies to escape from the state of nature. He writes an entire treatise to describe a legitimate state. He describes a legitimate state as one that originates in a compact between people in the state of nature, and then ignores the fact that there are no such states. (Note to America-boosters: the founders of America were not in the state of nature, they were already part of a civil society. America is the result of civil war/conquest, not compact). The much ballyhooed 'mingling of my labor' as a claim of property rights actually ends up meaning 'mingling of my labor, and that of my employees,' thus fundamentally undermining any justification that he might have had for the origins of property- because he has no account of how some people come to be employers and some to be employees. <br/><br/>As with all political theory that tries to lay out a rationale for people obeying modern nation states, it ignores history, logic and morality. Still, worth reading- it's short and easy to prove wrong. No wonder it's a staple in first year philosophy courses.
Review by mbmackay
27/08/2015
I read this book immediately after Hobbe's Leviathan. I found both to be tough recreational reads, but there were sufficient rewards in both to cover the pain.Locke's book makes more sense to my modern mind - he quite rightly puts the view that the head of government (King or whatever) must be subject to the laws of the Commonwealth, and must not be judges in their own cases. This is the fundamental point of difference between Locke and Hobbes.But while Locke may be right, Hobbes is the better writer. While Hobbes is short, direct and punchy in his prose, Locke wanders and is need of a good editor. Often he summarises his views at the end of a chapter, and this reader couldn't help but think that the summary should be at the start, and most of the rest of the chapter ditched.While both want to be seen to be developing their position from first principles, both writer views are coloured by the English Civil War. Hobbes considers the rebels criminals; Locke supports their actions, and their writing shows their preferences.I was also amused to see (Ch 13) that fair electoral boundaries and equal representation was already a thorny issue. Gerrymandering is clearly not only a modern problem.Read Aug 2014