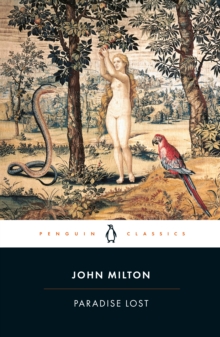 Description
John Milton's celebrated epic poem exploring the cosmological, moral and spiritual origins of man's existence, Paradise Lost has been fully revised with an introduction by John Leonard in Penguin Classics.In Paradise Lost Milton produced poem of epic scale, conjuring up a vast, awe-inspiring cosmos and ranging across huge tracts of space and time, populated by a memorable gallery of grotesques. And yet, in putting a charismatic Satan and naked, innocent Adam and Eve at the centre of this story, he also created an intensely human tragedy on the Fall of Man.
Written when Milton was in his fifties - blind, bitterly disappointed by the Restoration and in danger of execution - Paradise Lost's apparent ambivalence towards authority has led to intense debate about whether it manages to 'justify the ways of God to men', or exposes the cruelty of Christianity.John Leonard's revised edition of Paradise Lost contains full notes, which elucidates Milton's biblical, classical and historical allusions and discuss his vivid, highly original use of language and blank verse.John Milton (1608-1674) spent his early years in scholarly pursuit.
In 1649 he took up the cause for the new Commonwealth, defending the English revolution both in English and Latin - and sacrificing his eyesight in the process.
He risked his life by publishing The Ready and Easy Way to Establish a Free Commonwealth on the eve of the Restoration (1660).
His great poems were published after this political defeat.If you enjoyed Paradise Lost, you might like Dante's Inferno, also available in Penguin Classics.'An endless moral maze, introducing literature's first Romantic, Satan' John Carey'Paradise Lost is, to my mind, the greatest poem in English' Philip Pullman, author of His Dark Materials trilogy
Information
Format: Paperback
Pages: 512 pages
Publisher: Penguin Books Ltd
Publication Date: 27/02/2003
Category: Poetry by individual poets
ISBN: 9780140424393
Other Formats
Paperback from £2.50
CD-Audio from £11.39
Hardback from £10.75
EPUB from £0.99
Paperback / softback from £6.99
Free Home Delivery
on all orders
Pick up orders
from local bookshops
Reviews
Showing 1 - 5 of 14 reviews.
Previous | Next
Review by Amabel300
16/06/2015
Although this is not a light read and will require thought and maybe some research (on my part at least) to fully understand milton's meanings, this book is at very least profound. Milton's writing style has yet to be matched by any I've seen.
Review by HvyMetalMG
16/06/2015
Seeing as I took a class - an entire class, an entire semester dedicated to the reading of this single novel, I was praying I was going to enjoy it. And what heavy metal fan couldn't enjoy the battle of God vs. Satan? The fall of Satan from heaven is a brilliantly written tale and there is so much meaning within every stanza of this epic book. There has to be, I spent 3 months reading it and I think I even got a B in this class.
Review by amydross
16/06/2015
Milton gets extra points for scope and ambition, but I have to admit that he tends toward the preachy (rather than allowing his characters to illustrate their own morals), plus some of his theology struck me as a bit simple-minded. That said, the descriptions of hell remain both beautiful and terrible -- unparalleled in the English language.
Review by ztutz
16/06/2015
Certainly one of the best poems ever written in English!
Review by TiffGabler
16/06/2015
Don't care if it's blasphemy, Satan is awesome!!! He becomes a character that drives a much needed retelling of Genesis. Milton knew how to use his character and his words to create a book that was one of only two that would usually be found in anyone's house during the 18th and 19th century.