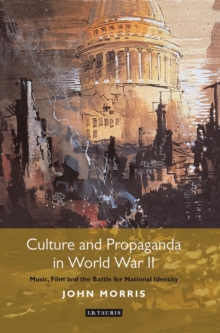 Culture and Propaganda in World War II : Music, Film and the Battle for National Identity
Hardback
Description
The wartime period in Britain is now seen as an extremely fertile period of British creativity in music, film and art.
Often, these projects were funded and supported by the government, who saw its role as a custodian of British culture, and by extension, of British values, at a time when those values seemed under great threat.
In the late thirties the Nazi Party had stressed the superiority of Germanic culture and the promotion of Richard Wagner and Carl Orff was central to Hitler's cultural program.
In Britain, the War Office under Winston Churchill chose to promote Edward Elgar and Hubert Parry, but also to appropriate and 'de-Nazify' Ludwig van Beethoven- whose Fifth Symphony was used extensively in wartime broadcasts and has since become synonymous with VE Day.
Meanwhile, the work of Ralph Vaughn Williams, whose music was commissioned by Powell and Pressburger for use in 49th Parallel, reclaimed a particularly English past stretching back to the Tudors. While artists such as John Piper, Eric Ravillious and Evelyn Dunbar produced works specifically commissioned by the state which were intended to commemorate and glorify Britain, the British Council and the BBC played an active role in commissioning and broadcasting their musical equivalents.
In film, Humphrey Jenning's documentaries were designed to further push the wartime agenda, along with films produced by Ealing Studios.
Here, John Morris assesses the history of this body of work, shedding new light on the period.
A cultural history of music in wartime based on detailed archival research, Culture and Propaganda in World War II is essential reading for historians of the period, musicians, film scholars and propaganda analysts.
Free Home Delivery
on all orders
Pick up orders
from local bookshops