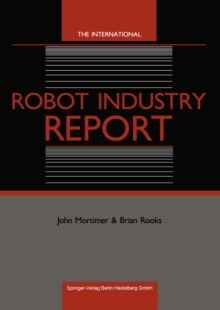 The International Robot Industry Report
PDF
Please note: eBooks can only be purchased with a UK issued credit card and all our eBooks (ePub and PDF) are DRM protected.
Description
Like many other new technologies which have since been seized and exploited by others, the industrial robot is a British invention.
In 1957, a patent was produced by a British inventor, Cyril Walter Kenward, and later it became crucial to the future of robotics.
For across the Atlantic two robot builders, Unimation and AMF, both infringed this patent and ultimately a cash settlement was made to Kenward.
The owner of Unimation Inc. was Joseph Engelberger, an entrepreneur and avid reader of Isaac Asimov, the writer who helped to create the image of the benevolent robot.
It is claimed that Engelberger's journey of fame down the road which led to him being hailed as the 'father of robotics' can be traced to the day that he met George C.
Devol at a cocktail party. Devol was an inventor with an impressive list of patents to his name in the electronics field.
One of Devol's patent applications referred to a Programmed Transfer Article.
Devol's patent was issued in 1961 as US Patent 2,988,237, and this formed the basis of the Unimate robot which first saw the light of day in 1960.
The first Unimate was sold to Ford Motor Company which used it to tend a die-casting machine.
It is perhaps ironic that the first robot was used by a company which refused to recognise the machine as a robot, preferring instead to call it a Universal Transfer Device.
Information
Format:PDF
Publisher:Springer Berlin Heidelberg
Publication Date:17/04/2013
Category:
ISBN:9783662131749