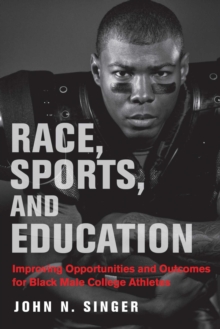 Race, Sports, and Education : Improving Opportunities and Outcomes for Black Male College Athletes
Paperback / softback
Description
Race, Sports, and Education highlights the myriad ways in which organized collegiate sport has both positively contributed to and negatively detracted from the educational experiences of Black male college athletes.
Specifically, John N. Singer examines the educational experiences, opportunities, and outcomes of Black males who have played NCAA Division I football and/or basketball at historically White colleges and universities. Singer is intensely aware of the ways in which many Black athletes have been shortchanged by the collegiate sport system.
He describes how the colleges and universities have exploited athletes for the institutions' financial gain and deprived them of basic educational opportunities that ought to be enjoyed by all students.
At the same time, Singer argues that sports do in fact offer genuine educational opportunities and benefits for many of these athletes.
He is acutely attuned to the fact that these athletes love their sports, and that their participation in these sports makes unique educational experiences available to them.
As Singer shows, to understand the situation and to chart realistic, fruitful reform measures requires a full appreciation of the complexity-indeed, of the many competing and contradictory elements-that characterizes intercollegiate sport and the experiences of Black athletes at the present time. The book brings to the fore the voices, stories, and perspectives of twelve Black male college athletes via a case study of teammates from a big-time college football program and individual reflective vignettes of athletes across several different college programs.
Through his analysis of the system and his attention to student views and experiences, Singer crafts a valuable, nuanced account and points in the direction of reforms that would significantly improve the educational opportunities and experiences of these athletes. At a time when collegiate sports have attained unmistakable institutional value and generated unprecedented financial returns-all while largely failing the educational needs of its athletes-this book offers a clear, detailed vision of the current situation and suggestions for a more equitable way forward.
Information
Format: Paperback / softback
Pages: 224 pages
Publisher: Harvard Educational Publishing Group
Publication Date: 30/12/2019
ISBN: 9781682534090
Also in the Race and Education series | View all