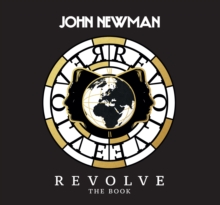 Revolve: The Book
Hardback
Description
'The main reason I have written this book is because I want people to know the process behind making my second album.
I fight every day to show people what I see inside my head, my vision and what I want to create.'Revolve is a first-person account from the platinum-selling singer-songwriter John Newman, documenting the creative process involved in writing his second album.In the book, John explores the influences of his Yorkshire upbringing, where Northern Soul and Motown moulded his musical ear.
From Settle to London, this unique behind-the-scenes narrative charts the build-up to the release of his break-out single 'Love Me Again', his No.1 album 'Tribute' and his first world tour.Revolve then details the making of his much anticipated second album, from creating and sketching the concept, writing the lyrics and recording in LA.
Exclusive photography captures John's experiences, alongside songs scrawled on envelopes, early gig posters and his own personal drawings.
Revolve provides the in-depth story of John's musical and personal evolution so far.'My first encounter with John Newman was on my daily afternoon break from a studio session to buy a Tesco's flapjack.
I found him outside my studio complex with Mr Hudson, who he was making a record with.
They were making fun of my car, as it had been shat on that day by an army of gulls.
We've both come a long way since then; I had my car cleaned, and he has become one of the most exciting performers and songwriters of his generation.' - Calvin Harris
Information
Format: Hardback
Pages: 192 pages, over 150 colour photographs
Publisher: Quadrille Publishing Ltd
Publication Date: 01/10/2015
Category: Rock & Pop music
ISBN: 9781849496506