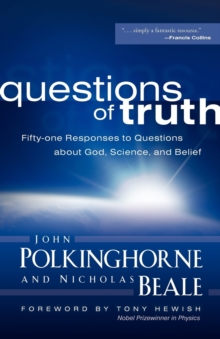 Questions of Truth : Fifty-one Responses to Questions about God, Science, and Belief
Paperback
Description
How did the universe begin? Can God's existence be proven? Do humans matter more than animals? For many years people have sent the scientist-turned-priest John Polkinghorne these and other questions about science and belief.
In question-and-answer format, Polkinghorne and his collaborator Nicholas Beale offer their highly informed opinions about some of the most frequently asked of these questions.
Readers can follow their own paths through the book, selecting questions that interest them and looking at the additional material if they choose.
This unique book will help Christians clarify their beliefs regarding difficult issues and better face challenges--from within and from others--to their faith.
Information
Format: Paperback
Pages: 250 pages
Publisher: Westminster/John Knox Press,U.S.
Publication Date: 19/01/2009
Category: Nature & existence of God
ISBN: 9780664233518
Free Home Delivery
on all orders
Pick up orders
from local bookshops
Reviews
Showing 1 - 1 of 1 reviews.
Review by RussWhite
16/06/2015
Questions comes from the questions asked of two working physicists, and their answers to those questions. the goal is to present a set of Christians beliefs that can work with science (or rather Science), rather than a set of Christian beliefs that are, apparently, contrary to current scientific thinking. The entire underlying thesis of this work is questionable; science changes it's mind about every 20 years, but God hasn't changed his mind, ever.To understand the model the authors take it's best to let them speak for themselves."The Bible is not a book but a library, with various types of writing in it. There is much history, but there are also symbolic stories that convey truths so deep that only a story form could express them. (That is the true meaning of that much-abused and misunderstood word myth, very different from that of a simple fairy story.) In interpreting the Bible it is important to work out what kind of writing one is reading. For example, Genesis 1 is not a literal account of a hectic six days of divine activity, given to save us the trouble of using science to discover the remarkable history of the universe. Instead, it is a piece of theological writing that uses a symbolic story to convey the theological truth that nothing exists except through the creative will of God ("and God said, let there be...")." -Page 7Here, God is a god of the gaps. That which can be explained by science we should leave to science. That which cannot be, well, that's a fine place for religion to do it's stuff. The questions are divided into several sections, including the concept and existence of God, the Universe, Evolution, evil, human beings, and finally religion.The most useful part of this book comes after the last chapter and conclusion. Specifically, the appendix on the arrangement of the Universe in a way that allows for life is explained in detail to a level that almost anyone can grasp. It's worth buying this book for this single appendix, even if you don't read the remainder of the book itself.