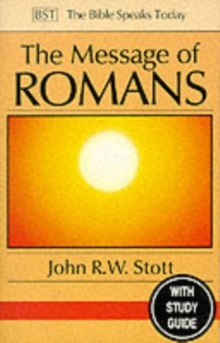 The Message of Romans : God's Good News for the World
Paperback
Description
John Stott sees Romans as the fullest account of the gospel in the New Testament, and as a manifesto of human freedom through Jesus Christ.
Information
Format: Paperback
Pages: 432 pages
Publisher: SPCK Publishing
Publication Date: 01/09/1994
ISBN: 9780851111438
Free Home Delivery
on all orders
Pick up orders
from local bookshops
Reviews
Showing 1 - 1 of 1 reviews.
Review by David.Alfred.Sarkies
16/06/2015
There isn't really much that I can think about when approaching a commentary on Romans. It is a book from the New Testament that has pretty much been done to death in both commentaries and in sermons, so when one sits down to read it one tends to go over a lot of old ground. That doesn't mean that that is a bad thing, not when it comes to biblical studies as Peter does say that we should constantly be reminded of the faith that we have in Christ Jesus, and that is where the book of Romans comes in.Some commentators have described it as the Gospel according to Paul, and I am one who falls in that category. While it is not a gospel in the traditional sense, being a biography of the life and ministry of the Lord Jesus, it does outline very clearly the basics of Christian doctrine. In fact, Romans is a brilliant platform from which one can come to understand the basics of Christianity so that one may be able to answer questions relating to why they believe what they believe. This, I suspect, is why Paul originally wrote to the letter.Paul begins by citing his credentials, and then launches in to how through our own efforts we have absolutely no chance of getting right with God and despite our best efforts are still as far away from God as we could possibly be. In doing this, he outlines the positions of the nations, the good people, and then the Jews. In essence, we are all sinners and all fall short of God's glory. However, he then turns and explains (and this is where Romans 5 comes in, as one pastor said, the most important chapter in the most important book of the bible) how God has acted to bring us back into a relationship with him, and how he emphasises the importance of faith. It is by faith that we are saved, not by our works. Paul then finishes the book off by outlining how we are to live as Christians, first with our own character, our attitudes towards the government and our neighbours, and in how we relate to Christians who may not be as strong in the faith as we are.I wish to say something of the government though as it is accepted that it was written around 55 AD when Paul was in Corinth, which means that it was during the reign of Nero. Now Nero was not a nice guy, but then many of the Roman Emperors up to that time had turned out to be duds. However, Paul does not tell us to rebel against them, but rather to accept them as God's instruments. Despite Nero later launching a massive persecution against the Christians (at least Christians living in Rome), it is this principle that has been upheld. We do not revolt against the government (unless, of course, the Government is forcing us to turn against God's precepts), but rather accept them as God's servant. This seems odd considering the madness of Nero, but it is something that is acceptable. Further, it does not prevent us from calling the government to account: I believe that this is something that we are expected to do, however it does not support armed revolt. Therefore, I would support peaceful protest, but beyond that, I don't think that it is our calling.Finally, John Stott, who is a very good writer and theologian, opens his book with the statement 'Paul's letter to the Romans is a kind of Christian manifesto'. I would personally have to agree with him on that point, because, as I pointed out above, it outlines the basics of Christian Theology.
Also in the The Bible Speaks Today series | View all