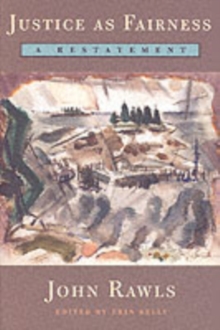 Justice as Fairness : A Restatement
Paperback
Description
This volume originated as lectures for a course on political philosophy that Rawls taught regularly at Harvard in the 1980s.
In time the lectures became a restatement of his theory of justice as fairness, revised in light of his more recent papers and his treatise Political Liberalism (1993).
John Rawls offers a broad overview of his main lines of thought and also explores specific issues never before addressed in any of his writings.
Rawls is well aware that since the publication of "A Theory of Justice" in 1971, American society has moved farther away from the idea of justice as fairness.
Yet his ideas retain their power and relevance to debates in a pluralistic society about the meaning and theoretical viability of liberalism.
This book demonstrates that moral clarity can be achieved even when a collective commitment to justice is uncertain.
Information
Format: Paperback
Pages: 240 pages, 2 line illustrations
Publisher: Harvard University Press
Publication Date: 16/05/2001
Category: Social & political philosophy
ISBN: 9780674005112
Free Home Delivery
on all orders
Pick up orders
from local bookshops
Reviews
Showing 1 - 3 of 3 reviews.
Review by heidilove
16/06/2015
the meat of rawls. start here if you get intimidated by his theory of justice.
Review by chriszodrow
16/06/2015
Rawls' elegant argument has become a staple of liberal politics: (a) Each person has the same indefeasible right/claim to a fully adequate scheme of basic liberties, which scheme is compatible with the same scheme of liberties for all (liberty principle); and(b) Social and economic inequalities are to satisfy two conditions: first, they are to be attached to offices and positions open to all under conditions of fair equality of opportunity (the equality principle); and second, they are to be to the greatest benefit of the least-advantaged members of society (the difference principle).In order to understand the direction of American social and political discourse, one must come to terms with what he argues. He schooled pretty much all of the up and coming politicians while at Harvard, including POTUS. I do not agree with his argument, as it is a sail without wind (unless of course political coercion is employed). Nonetheless, his arguments underly our national discussion at the moment. Even the conservatives have grabbed on to his ideas and are shouting for egalitarian rule— despite the democratic elections.
Review by Nikkisaac
16/06/2015
need to take time to go through this reading. It can get boring quickly.