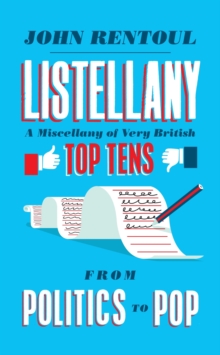 Listellany : A Miscellany of Very British Top Tens, from Politics to Pop
Hardback
Description
Which are the books that people buy but never read?* Discover the answers to this and other essential questions in Listellany. This is NOT a fact-based compendium. It's purely opinion - the opinions of John Rentoul, his readers - and, yes, Twitter. Eccentric and eclectic, this is a book for pub debaters, list boffins and language lovers up and down the land: come inside and join the debate. Every week in the Independent on Sunday John Rentoul publishes a top ten based on suggestions from the great British public.
Now collected together for the first time, and featuring previously unpublished lists, Listellany provides the answers to such quintessential arguments as: which are the top ten overrated 1960s bands; meaningless words found on modern menus; films panned as turkeys that are actually quite good; most beautiful British railway journeys; stupid car names; unsung villains; political heckles; words that ought to be used more often; British place names; great bands with terrible names; best prime ministers we never had; visual cliches; political myths; anagrams; misquotations; worst Beatles songs; most interesting politicians. But who knows best? You, John, or Twitter?Pick up this book and decide. *The list includes books by both Bill and Hillary Clinton.
Information
Format: Hardback
Pages: 128 pages, illustrations (black and white)
Publisher: Elliott & Thompson Limited
Publication Date: 18/09/2014
Category: Humour collections & anthologies
ISBN: 9781783960040
Free Home Delivery
on all orders
Pick up orders
from local bookshops
Reviews
Showing 1 - 1 of 1 reviews.
Review by atticusfinch1048
16/06/2015
Listellany – FunnyListellany by John Rentoul is a laugh out loud compilation of lists that he has gathered from suggestions from the Great British public covering politics to politics. This would make the ideal stocking filler for those looking for Christmas presents for those who have a different sense of humour. The book asks the question of who knows best? You, John or Twitter? Well clearly it is me, followed by John and can anything sensible really come off twitter?There are always lists that can make you smile, mine is the political heckles but that might have something to do with a previous life when I was sensible and intelligent. Or for those who often misquote there is a list of the top ten of misquotations or for those wanting to be smart Useful words for which there is no English equivalent mine is 5 on that list Chutzpah wonderful Yiddish. I can promise if you buy this as stocking filler you will clearly hear all about it on the big day because the reader cannot help but tell you what is on various lists. My eldest niece thought I was nuts when I told her I would like to visit number 2 on the Best British Place Names because they must have a great sense of humour, the place? Pity Me, County Durham.I can highly recommend this book and it will certainly beat listening to the Queen's Speech or worse who is going to do the washing up – for which there is no list as yet. Listellany is very British for our weird and wonderful sense of humour and irony buy it and laugh along with me.