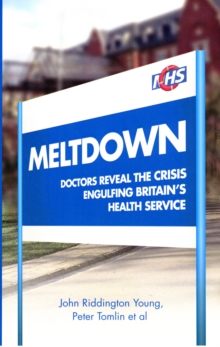 Hospital Revolution : Doctors Reveal the Crisis Engulfing Britain's Health Service
Paperback
Description
There is no doubt that the NHS is very sick, possibly terminally ill.
The cause of this illness is that it has a huge cancerous growth inside, sapping it of all its strength.
This malignant mass is the management system.Just as a patient with cancer does not know for a long time that a disease is present, the vast majority of the British public is unaware of the true cause and extent of the sickness within the NHS.A cancer grows at the expense of the healthy tissues around it without serving any useful function.
To the detriment of doctors, nurses and surgeons, the administration has grown bigger and bigger, and it has not served any useful purpose, as the shocking stories in this important book show.Cancer grows until it sometimes becomes bigger than the organ from which it has arisen.
Twenty years ago there were just a handful of administrators, but now there are many thousands.
Cancer eventually kills its host by an insidious process of infiltration and spread.
By their own exorbitant salaries and continuing mismanagement and misuse of money, administrators have diverted precious funds and made our once thriving Health Service into an emaciated shadow of its former self. Sometimes cancer causes bleeding. The blood then flows away and cannot be replaced quickly enough by the ailing body.
Doctors and nurses - the life blood of the NHS - have never before been leaving or taking early retirement in such unprecedented numbers. And they are going because of the administration, which has made many feel absolutely and utterly unvalued.The only treatment for a cancer is to completely get rid of it.
If this were done, there would be an immediate and overwhelming increase in morale not only by the clinical staff, but by everyone else in the hospital, plus immense savings.
This book is a vital expose of the crisis at the heart of the NHS and a rallying cry to save it before it's too late.
Information
Format: Paperback
Pages: 268 pages
Publisher: John Blake Publishing Ltd
Publication Date: 02/06/2008
Category: Health systems & services
ISBN: 9781844545957
Free Home Delivery
on all orders
Pick up orders
from local bookshops
Also by John Riddington Young