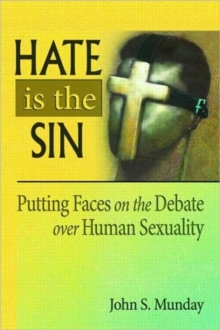 Hate is the Sin : Putting Faces on the Debate over Human Sexuality
Paperback / softback
Description
Arguments based in doctrine and scripture over the inclusion of homosexual people within Christian congregations and sacraments have done little to persuade the faithful on either side of this debate.
Hate is the Sin: Putting Faces on the Debate over Human Sexuality approaches this divisive subject through portraits of the faith of gay and lesbian persons, presents both sides of the controversy, revealing how preformed opinions shape widely divergent interpretations of biblical and theological issues.
Included are the true stories of Mary Albing, serving as a pastor while in a lesbian relationship; Jay Wiesner, whose congregation defied the Evangelical Lutheran Church in America by ordaining and installing him in an Extraordinary Candidacy Project ceremony; David Glesne, who sought to heal relationships with gays and lesbians and yet deny them ordination and cohabitation; and other accounts of the ways that many congregations have struggled to welcome homosexual people and to realize the Christian message within their own churches.
Hate is the Sin: Putting Faces on the Debate over Human Sexuality is an insightful and detailed account of this contemporary debate and required reading for any person hoping to understand Christianity and the spiritual lives of contemporary Christian people.
Information
Format: Paperback / softback
Pages: 160 pages
Publisher: Taylor & Francis Inc
Publication Date: 18/06/2008
Category: Gender studies: men
ISBN: 9780789036391
Other Formats
Hardback from £106.39
EPUB from £25.50
PDF from £25.50