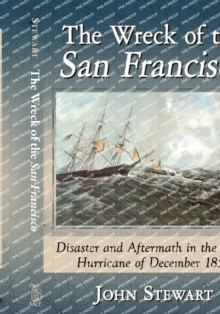 The Wreck of the San Francisco : Disaster and Aftermath in the Great Hurricane of December 1853
Paperback / softback
Description
On the morning of December 22, 1853, a brand new steamship left New York Harbor on its maiden voyage.
The length of a football field, the San Francisco was arguably the best-made ocean-going vessel built up to that time, and had been chartered by the United States Government to carry most of the men of the Third Artillery to the Pacific Coast.
Only two days out, 300 miles off the coast of Delaware, the San Francisco ran into one of the great hurricanes of maritime history.
Her sails and masts were blown away, the engine was wrecked, and scores of human beings were washed overboard.
With no power of her own, the ruined steamer became a floating coffin as cholera broke out on board.
With people dying fast, and with the ocean constantly threatening to drag the ship down at any moment, the men battled frantically with the pumps to keep afloat.
Other vessels began to pass by, but with the seas so high they could be of little help.
Finally, with the storm abating, three ships in succession managed to take off the survivors and bring them back to civilization.
After two weeks, the nightmare was over. But the drama continued. Two of the three rescuing vessels had been so damaged by the storms that they were hardly in a position to take on such a large number of unexpected passengers, let alone the threat of cholera, and it wasn't long before water and provisions began to run out.
Facing death at every turn from thirst, starvation, exhaustion, exposure, and even a mutiny, they barely made it back to land.
But they did. As for the Third Artillery, it had been decimated. Then came the aftermath, the accusations, the denials, the shocking revelations of ineptitude and gross negligence by the Government, the cover-up, and finally the Inquiry and the price to be paid.
Information
Format: Paperback / softback
Pages: 256 pages
Publisher: McFarland & Co Inc
Publication Date: 30/05/2018
ISBN: 9781476674100
Free Home Delivery
on all orders
Pick up orders
from local bookshops