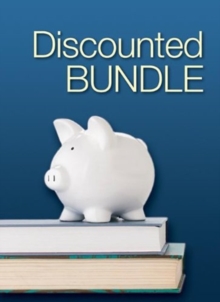 BUNDLE: Creswell: Research Design 4e + Evergreen: Presenting Data Effectively + Woodwell: Research Foundations
Kit
Description
We offer these texts bundled together at a discount for your students.

John W. Creswell, Research Design Qualitative, Quantitative, and Mixed Methods Approaches, Fourth Edition
The eagerly anticipated Fourth Edition of the title that pioneered the comparison of qualitative, quantitative, and mixed methods research design is here! For all three approaches, Creswell includes a preliminary consideration of philosophical assumptions, a review of the literature, an assessment of the use of theory in research approaches, and refl ections about the importance of writing and ethics in scholarly inquiry. He also presents the key elements of the research process, giving specifi c attention to each approach. The Fourth Edition includes extensively revised mixed methods coverage, increased coverage of ethical issues in research, and an expanded emphasis on worldview perspectives.

Stephanie D. H. Evergreen, Presenting Data Effectively Communicating Your Findings for Maximum Impact
This is a step-by-step guide to making the research results presented in reports, slideshows, posters, and data visualizations more interesting. Written in an easy, accessible manner, Presenting Data Effectively provides guiding principles for designing data presentations so that they are more likely to be heard, remembered, and used. The guidance in the book stems from the author's extensive study of research reporting, a solid review of the literature in graphic design and related fields, and the input of a panel of graphic design experts. Those concepts are then translated into language relevant to students, researchers, evaluators, and non-profit workers—anyone in a position to have to report on data to an outside audience. The book guides the reader through design choices related to four primary areas: graphics, type, color, and arrangement. As a result, readers can present data more effectively, with the clarity and professionalism that best represents their work.
Douglas Woodwell, Research Foundations How Do We Know What We Know?
Designing research can be daunting and disorienting for novices. After experiencing this first-hand, the author has written a book that shows how to mentally frame research in a way that is understandable and approachable while also discussing some of the more specific issues that will aid the reader in understanding the options available when pursuing their research. Stressing the link between research and theory-building, this concise book shows students how new knowledge is discovered through the process of research. The author presents a model that ties together research processes across the various traditions and shows how different types of research interrelate.
The book is sophisticated in its presentation, but uses plain language to provide an explanation of higher-level concepts in an engaging manner. Throughout the book, the author treats research methodologies as a blueprint for answering a wide range of interesting questions, rather than simply a set of tools to be applied. The book is an excellent guide for students who will be consumers of research and who need to understand how theory and research interrelate.
Please contact your Sales Representative for more information.

Information
Format: Kit
Publisher: SAGE Publications
Publication Date: 31/12/2013
Category: Research methods: general
ISBN: 9781483316468
Free Home Delivery
on all orders
Pick up orders
from local bookshops