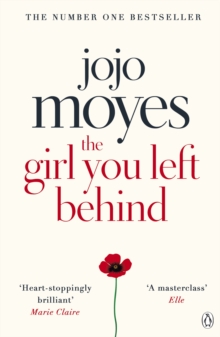 The Girl You Left Behind
Paperback
Description
A hauntingly romantic and utterly irresistible weepy from the author of the international bestsellers Me Before You and After You.What happened to the girl you left behind?France, 1916.
Sophie Lefevre must keep her family safe whilst her adored husband Edouard fights at the front.
When she is ordered to serve the German officers who descend on her hotel each evening, her home becomes riven by fierce tensions. And from the moment the new Kommandant sets eyes on Sophie's portrait - painted by Edouard - a dangerous obsession is born, which will lead Sophie to make a dark and terrible decision.Almost a century later, and Sophie's portrait hangs in the home of Liv Halston, a wedding gift from her young husband before he died.
A chance encounter reveals the painting's true worth, and its troubled history.
A history that is about to resurface and turn Liv's life upside down all over again . . .In The Girl You Left Behind two young women, separated by a century, are united in their determination to fight for what they love most - whatever the cost.
Praise for The Girl You Left Behind:'Moyes is the queen of the classy weepy and this won't disappoint.
A masterclass in storytelling that fans of Me Before You will adore' Elle'Another heart-stoppingly brilliant novel from Jojo Moyes' Closer'Wonderfully well-written and completely engrossing, with exquisitely drawn characters in a brilliantly plotted narrative.
It will make you think long after you turn the final page' Daily Mail
Information
Format: Paperback
Pages: 560 pages
Publisher: Penguin Books Ltd
Publication Date: 01/09/2012
ISBN: 9780718157845
Other Formats
EPUB from £4.99
CD-Audio from £17.95
Free Home Delivery
on all orders
Pick up orders
from local bookshops
Reviews
Showing 1 - 5 of 11 reviews.
Previous | Next
Review by VanessaCW
16/06/2015
Set in 1916 and the present day, I loved this tale which centres around a painting entitled 'The Girl You Left Behind'. This painting has a sad and dark past and becomes the subject of a court battle.One of my favourite genres is a dual time frame story and this one did not fail to disappoint. I thought the two inter-linking stories were put together very well and were told seamlessly. I also thought it was an altogether beautifully written book as well as being an easy read. I found myself totally engrossed in the very different lives of the two main female characters, Sophie and Liv, and was very much drawn into their worlds. There was also a touch of humour to lighten the sadness behind the story. I loved Mo, Liv's friend who came to stay 'temporarily'! She came over as so much fun and was just a zany character.I would highly recommend this poignant and gripping tale of love, happiness and the choices we make, which is full of plenty and twists and turns. It was a winner for me!
Review by shizz
16/06/2015
JoJo Moyes: The Girl You Left BehindOften when you approach a writer for the first time it takes a chapter or two or even three or four to 'get into' the book. I've lost count of the times when I've had to really persevere with a book. It's often been worthwhile and I've ultimately enjoyed the read. With this book though I was thoroughly 'into it' after a few paragraphs and I felt it boded well. Although the setting is WW1 it felt like WW2 descriptively although I have no doubt Ms Moyes did her research thoroughly. I couldn't lose this feeling at all throughout the novel. Maybe I've read too many holocaust books; fiction and non-fiction, for those were the images that intruded into my head. (I am sorry to say also I did keep getting mental pictures of the TV sitcom 'Allo 'Allo during some of the café sequences!) However that didn't detract at all from my enjoyment of the tale.We seem obsessed today with pigeon holing everything. So I pondered exactly what genre this book would fit into. Historic fiction? In part. My knowledge of WW1 France was certainly enhanced but the modern day sequences deny it a place wholly there. Romance? Certainly. The girl gets the guy in both timeframes, that was almost contrived, yet in a romantic novel, isn't that what you want, what you yearn for? Chick lit? It dips its feet in there for sure but never totally stays there. Courtroom Drama? Yes to that too. And I think that's why I liked as much as I did, purely because it can't conveniently be genre stamped.The characterisations were predictable for me in that it felt as if they were people I'd read about before but with different names and circumstances with slightly different details. But that isn't intended as negative criticism, I quite enjoyed that. Similarly the narrative felt like several stories I'd read before fused into one. But I enjoyed the company of both Sophie and Liv and wished there was a bit more of Mo.I think the book was well written overall. There is a danger that using more than one time frame can become confusing but I felt it worked seamlessly here. This book isn't unique, it isn't ground breaking, and I doubt it will win awards but it is a thoroughly enjoyable story to lose yourself in and immerse yourself in the tangled lives of others and end up with a satisfactory conclusion.
Review by AdonisGuilfoyle
16/06/2015
This is my hundredth book read in 2012, so I'm glad, in an obsessive compulsive round-number way, that such a wonderful book should move me into treble figures. Found via a review in a glossy magazine, the blurb tempted me into downloading the ebook there and then. And I wasn't disappointed. History, romance, humour and a satisfying - if unbelievable - ending, all in one story. I haven't put my Kindle down all weekend.In 1917, Sophie LeFevre is living with her sister and family in northern France, helping to run the hotel where she was born. Sophie's husband Edouard, a talented artist, is away at war, along with her sister's husband. The part of France where they live is under German occupation, and when a new enemy officer requisitions the hotel for his troops, Sophie has no choice but to comply. Her neighbours grumble and start rumours about the special preferences shown to Bessette family at Le Coq Rouge, but Sophie knows where she stands - until the officer starts to show more than a passing interest in a portrait of Sophie painted by her husband, and then in Sophie herself. Labelled as a collaborator, Sophie turns to the German officer with a dangerous plea for help. But what became of Sophie, 'the girl you left behind'? Nearly one hundred years later, a young widow holds the answer to half of the puzzle - a portrait of a vibrant young woman, bought by her late husband as a wedding present - and an unlikely twist of fate leads her to seek out the truth about Sophie LeFevre.I love how the two halves of this story, past and present, are mirrored so perfectly, yet the individual narratives of Sophie and Liv also stand alone and apart. Sophie's account is haunting, describing the deprivation and despair experienced in occupied France and filling the reader with admiration and sympathy for Sophie. Some novels written in the first person sound like exercises in creative writing, but Jojo Moyes uses the personal perspective to really bring Sophie to life, with all of her faults and fears. She is brave, but also foolhardy, and I wanted to shake her sometimes, for never backing down. Liv's story is more of a traditional chick lit romance, with the hard-won hero, eccentric friends and comfortable lifestyle, but no less enjoyable for that. I thought the contrast of sadness and silliness would be jarring, but the two women complement each other. Liv's grief, living alone in the glass house designed by her unforgettable late husband, is somehow no less real than the high drama of Sophie's day to day existence, and I grew attached to both of them.I was a bit disappointed by the barrage of unlikely coincidences towards the end - hidden journals, surprise appearances - but realise that ultimately, this is chick lit, where every unlucky in love heroine deserves a happy ever after, so decided to go with the flow. Sophie and Liv would probably face far darker fates in real life, but I don't mind having all the loose ends tie up into a big pink bow when reading such a well-written and emotional fairytale like this.
Review by MissAda
16/06/2015
I love jojo moyes. she just never disappoints! Loved very page. Cleverly written
Review by cassmob
16/06/2015
I loved this book and gobbled it up in one sitting. Now I need to revisit it and digest it in more detail.