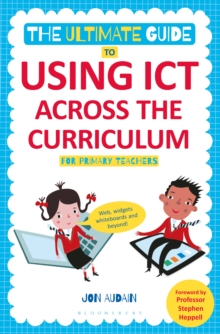 The Ultimate Guide to Using ICT Across the Curriculum (For Primary Teachers) : Web, widgets, whiteboards and beyond!
Paperback / softback
Description
WHEN IT COMES TO USING TECHNOLOGY IN THE CLASSROOM ARE YOU... ...a nervous beginner in need of tips for getting started?...an expert user searching for some high-tech, creative activities?...an ICT coordinator looking for advice on how to plan and implement your school provision?With the implementation of the new Primary Computing curriculum there has never been a better time to get your knowledge of ICT and the best ways to use it in the Primary classroom up to scratch!
Whatever your level, there are activities and advice in this book for you. The Ultimate guide to using ICT across the primary curriculum is the definitive guide to embedding ICT in all subjects across the primary school.
From using digital cameras and Beebots to Twitter and mobile apps, the creative and up-to-date ideas in this book will motivate and engage your pupils and prepare them for the changing world of technology they are living in. As well as step by step instructions on how to use a variety of technologies effectively, this book covers e-safety and the digital child, planning and budgeting your provision and how to use technology to support children with special educational needs.
The Foreword is written by Stephen Heppell, in which he says: [this book] is filled with sensible pragmatic advice, from the way it helps teachers to self rate themselves, through its wonderfully grounded 'here is a technology, why might you use it, what can you do approach' to its recession-aware reference back to the costs of each technology....it is full of today's advice, today's technology and really helps today's teachers build a properly digital school, right away.'
Information
Format: Paperback / softback
Pages: 256 pages, 20
Publisher: Continuum Publishing Corporation
Publication Date: 24/04/2014
Category: Primary & middle schools
ISBN: 9781441144003