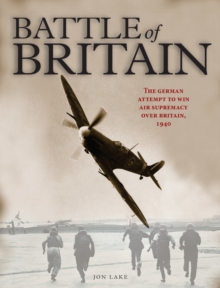 The Battle of Britain : The German attempt to win air supremacy over Britain, 1940
Hardback
Description
In the summer of 1940, the most important battle in the history of air warfare was fought between the British Royal Air Force and the German Luftwaffe in the skies over southern Britain.
Only after a tightly-fought series of aerial battles did the RAF secure a narrow victory - or did it?
Although glamourised by the press and cinema alike over the past 60 years, the battle was an intense war of attrition in which luck, skill, judgement and bravery all played a role.
The Battle of Britain explores in detail the men, machines and tactics engaged in the epic struggle, and seeks to debunk some of the popular myths that surround it.
The book examines the strength of both sides on the eve of the battle, and its wider strategic implications fo the outcome of the war, before looking at the German preparations for invasion, and the Luftwaffe's state of readiness after the Polish and French campaigns.
It explains why the battle was a race against time for the Germans and highlights factors such as the lack of suitable transports and inexperience in planning a seaborne invasion that helped hinder their efforts.
The book also asks whether Hitler himself was ever truly committed to invading Britain.
Britain's preparations for defending herself from attack are also closely examined.
The role and effectiveness of such institutions as the Home Guards and Observer Corps are covered, as well as the vital Chain Home and Chain Home Low radar networks.
The Battle of Britain analyses the RAF's preparations for the battle, its main fighters, the Hurricane and the Spitfire, and the vital importance of pilots from the Commonwealth, Poland, Czechoslovakia, France, the United States and elsewhere.
The Battle of Britain covers every stage of this mammoth contest in detail, beginning with the opening attacks on British shipping and ports.
The book highlights how close the war of attrition against the RAF came to succeeding, when the full fury of the Luftwaffe was unleashed on its airfields.
It also asks why the Luftwaffe began bombing the cities when it was so close to success.
The failings of both sides are dissected: the discord between key RAF commanders, and the initial failure of the Germans to realise the importance of radar.
Superbly illustrated with both full-colour artworks of the aircraft (including some three-view artworks), as well as colour and black-and-white photographs, and a detailed appendix on squadron and aircraft service history, The Battle of Britain provides an outstanding account of the conflict.
Information
Format: Hardback
Pages: 256 pages, 330 photos & artworks; 330 Illustrations, unspecified
Publisher: Amber Books Ltd
Publication Date: 16/05/2019
Category: British & Irish history
ISBN: 9781782747475
Free Home Delivery
on all orders
Pick up orders
from local bookshops