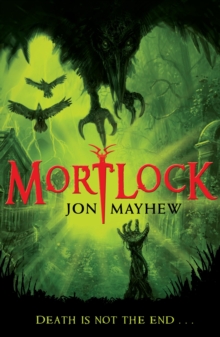 Description
The sister is a knife thrower in a magician's stage act, the brother is an undertaker's assistant.
Neither orphan knows of the other's existence. Until, that is, three terrible Aunts descend on the girl's house and imprison her guardian, the Great Cardamom.
His dying act is to pass the girl a note with clues to the secret he has carried to his grave.
Cardamom was one of three explorers on an expedition to locate the legendary Amarant, a plant with power over life and death.
Now, pursued by flesh-eating crow-like ghuls, brother and sister must decode the message and save themselves from its sinister legacy.
Information
Format: Paperback
Pages: 400 pages
Publisher: Bloomsbury Publishing PLC
Publication Date: 01/01/2011
Category: General
ISBN: 9781408803936
Other Formats
Hardback from £7.69
EPUB from £5.59
Free Home Delivery
on all orders
Pick up orders
from local bookshops
Reviews
Showing 1 - 1 of 1 reviews.
Review by ArkhamReviews
27/08/2015
I find it really hard to give a rating to Mortlock as I'm torn to whether or not I liked this novel.On the one hand, it's fantastically atmospheric. The story paints a grim vision of Victorian London and the story's strong Gothic elements make it very eerie. It also has a surprisingly complex plot, containing many twists and threads which all come together neatly over the final act.However, the story is incredibly slow moving times. After the exciting opening chapters, the novel began to lose my interest about 100 pages in. Although there were a few wonderful chase sequences after this, it never managed to fully grasp me again. It takes 300 pages to build to the climax and then resolves itself over 30, leaving me disappointed as it really did feel as though a lot of the earlier meandering was completely without purpose.I also did not really like either protagonist. Josie was brave enough but never seemed to resolve anything by herself. All obstacles that she faced, including the climax, were largely resolved by other people (often due to them coincidentally being in the right place at the right time). Alfie was not much better. While his cockney accent gave him some faux charm, he did not have much personality and even his powers ceased to be used after the halfway mark. The only characters I really did enjoy were the adults - Chrimes, Corvis and Mortlock. I loved the fact that they all had different motivations for seeking the Amarant, as it showed a wide variety of human vices and their unique characters showed through their reasoning for wanting the cheat death.Finally, I feel that I should warn people that this novel is really quite gory. The author's website says that it's aimed at children aged 8 and up but I think that younger readers could easily be scared by the strong horror elements of the story. Young teens should be fine but parents should probably read this one through themselves to be on the safe side before giving it to a middle grader.