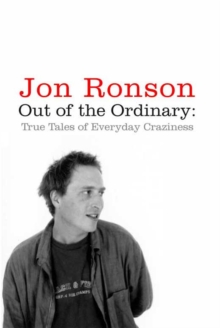 Out of the Ordinary : True Tales of Everyday Craziness
Paperback
Description
Jon Ronson's subjects have included people who believe that goats can be killed by the power of a really hard stare, and people who believe that the world is ruled by twelve-foot lizard-men.
In Out of the Ordinary, a collection of his journalism from the Guardian, he turns his attention to irrational beliefs much closer to home, investigating the ways in which we sometimes manage to convince ourselves that all manner of lunacy makes perfect sense -- mainstream, domestic, ordinary insanity.
Whether he finds himself promising his son that he will be at his side for ever, dressed in a Santa costume, or trying to understand why hundreds of apparently normal people would suddenly start speaking in tongues in a Scout hut in Kidderminster, he demonstrates repeatedly how we all succumb to deeply irrational beliefs that grow to inform our everyday existence.
Out of the Ordinary is Jon Ronson at his inimitable best: hilarious, thought-provoking and with an unerring eye for human frailty -- not least his own. Praise for The Men Who Stare at Goats: 'Not only a narcotic road trip through the wackier reaches of Bush's war effort, but also an unmissable account of some of the insanity that has lately been done in our names' Observer Praise for Them: Adventures with Extremists: 'A funny and compulsively readable picaresque adventure through a paranoid shadow world' Louis Theroux, Guardian
Information
Format: Paperback
Pages: 320 pages
Publisher: Pan Macmillan
Publication Date: 03/11/2006
Category: Humour
ISBN: 9780330448321
Free Home Delivery
on all orders
Pick up orders
from local bookshops
Reviews
Showing 1 - 3 of 3 reviews.
Review by Parthurbook
16/06/2015
A book of two halves - first part, a collection of short pieces and a 'diary'; the second, four longer features. When he's not writing about himself , Ronson is a wry observer of 'ordinary insanity' - there are excellent articles here about religious groups, Jonathan King, the Millionaire 'coughing major' and the obsessions of Stanley Kubrick. But reflections on family life are only mildly amusing and a little tiring after a while. Worth a selective read.
Review by Iira
16/06/2015
Not the best Jon Ronson, but still very good.
Review by Davidgnp
16/06/2015
I am in a Jon Ronson phase of reading at the moment. I love the way he seeks out and pursues the quirky and the offbeat, observing and commenting on real-life characters through the prism of his own psyche. The result is both witty and revealing. This collection of his 'Guardian' columns has some fascinating gems, including a long piece on the misdoings and subsequent trial of pop impresario Jonathan King and the obsessive collecting habits of film director Stanley Kubrick. Every Jon Ronson article, though, is ultimately about Jon Ronson,and there lies the real delight.