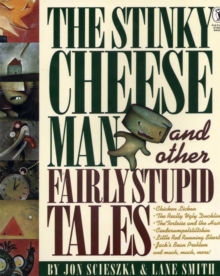 The Stinky Cheese Man and Other Fairly Stupid Tales
Paperback
Description
Jon Scieszka introduces some really stupid off-the-wall fairy tales including: 'Chicken Licken', 'The Princess and the Bowling Ball'; 'The Really Ugly Duckling', and 'Jack's Bean Problem'. Chosen by children as the Book of the Year for the Federation of Children's Book Groups, the book was described by She magazine as, 'The most delightful collection of stories a young cynic could hope to read'.
Information
Format: Paperback
Pages: 56 pages, colour illustrations
Publisher: Penguin Books Ltd
Publication Date: 20/08/1993
Category: Short stories
ISBN: 9780140548969
Free Home Delivery
on all orders
Pick up orders
from local bookshops
Reviews
Showing 1 - 1 of 1 reviews.
Review by amtul.malik1
16/06/2015
The stinky cheese man and other fairly stupid tales by John Scieszka has won many distinguished awards most notably the New York Times Best Illustrated Children's Book in 1992 and the ALA Notable Children's Book in 1993.This picture book contains a collection of parodies based off of classic fairytales; such as, The Gingerbread Man, The Princess and the Pea, The Ugly Duckling and so forth. The book is narrated by "Jack the Narrator", otherwise known as Jack from Jack and the Bean Stalk. Jack's style of unfolding classic fairytales is instead substituted with sarcasm, dry humor and wit; in fact Jack has no intentions to tell the fairytales in their original form. For instance, in the story of The Ugly Duckling, the duckling surprisingly remains ugly; or, instead of the Princess sleeping on a pea, it happens to be a bowling ball. And the notorious gingerbread man is in fact a stinky man with a block of cheese for a head. The format of the book is very unique; once a page was left blank mid-way through the story; in other cases, the font is very large and as each line progresses the font becomes smaller. This comedic effect is used to make every page a surprise for the reader. The clever jokes By Scieszka go hand-in-hand with the illustrations done by Lane Smith which uniquely depict the author's black humor. From front to back the entire book is infused with humor and jokes; for example the dedication page is written upside down, as Jack exclaims that nobody cares for dedications ,instead for those who do they may stand on their heads to read it. Or how the Little Red Hen hysterically asks who is the "ISBN Guy" on the back cover. Overall, this was an excellent book. I would highly recommend this book for all readers at all stages. Children will find this book fun and hysterical for its silliness; whereas, teens and adults would find it comical for its sarcasm and wit.