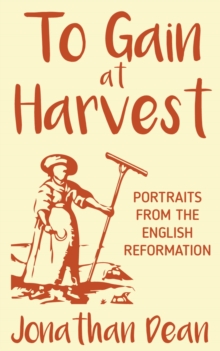 To Gain at Harvest : Portraits from the English Reformation
Paperback / softback
Description
To Gain at Harvest celebrates the courage, intellect, humility and passion displayed by figures of all shades of opinion and belief during the English Reformation.
Offering insights into the turbulent period of the English Reformation and its ideas, Jonathan Dean demonstrates the qualities of mind and heart, and the gifts of faith and character, which some of its leading proponents possessed.
Including chapters on Thomas Cranmer, Nicholas Harpsfield, Elizabeth I, Matthew Parker, and Katherine Parr, the book moves beyond old confessional lines to reveal the gifts and virtues possessed by women and men whose lives still inspire and whose writings remain one of the greatest treasures of English religious life.
Contents:1. The Ground of Charity: Thomas More2. Ambition and Fidelity: Thomas Cranmer 3. A Tudor Woman's Passion: Anne Askew 4. Manifold Passions: Katherine Parr 5. `Nourished with Hope': Nicholas Harpsfield 6. The Virtue of Moderation: Matthew Parker 7. Governing with Subtlety: Queen Elizabeth I 8. The Piety of Prayer and the Fluency of Speech: Lancelot Andrewes 9. `Make me Thine': George Herbert10. Felicity and Desire: Thomas Traherne
Information
Format: Paperback / softback
Pages: 224 pages
Publisher: SCM Press
Publication Date: 30/03/2018
Category: British & Irish history
ISBN: 9780334056898
Free Home Delivery
on all orders
Pick up orders
from local bookshops