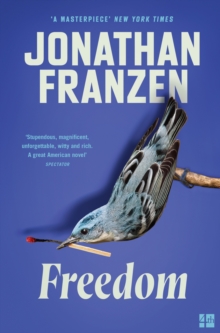 Description
`Deeper, funnier, sadder and truer than a work of fiction has any right to be' Independent on Sunday`Both a page-turner and a work of art ... an almost perfectly written novel' Evening StandardThis is the story of the Berglunds, their son Joey, their daughter Jessica and their friend Richard Katz.
It is about how we use and abuse our freedom; about the beginning and ending of love; teenage lust; the unexpectedness of adult life; why we compete with our friends; how we betray those closest to us; and why things almost never work out as they `should'.
It is a story about the human heart, and what it leads us to do to ourselves and each other.
Information
Format: Paperback
Pages: 570 pages
Publisher: HarperCollins Publishers
Publication Date: 01/08/2011
ISBN: 9780007269761
Other Formats
EPUB from £4.99
CD-Audio from £19.09
eAudiobook MP3 from £21.59
Paperback from £7.15
Free Home Delivery
on all orders
Pick up orders
from local bookshops
Reviews
Showing 1 - 2 of 2 reviews.
Review by whirled
16/06/2015
Reading <i>Freedom</i> is like walking through a painstakingly constructed world that is populated by holograms. Rudderless and regretful housewife Patty Berglund, author of the first "autobiography" section, is the closest to a three-dimensional character with believable strengths and flaws. We get more on her background and that goes some way towards making her relateable. Her husband Walter serves as a mouthpiece for Franzen to go off on long, angry rants of the kind spewed all across the liberal blogsphere. (I grew tired of it - and I'm a liberal who recognises the urgency of overpopulation as an issue). Their son Joey seems to represent the self-centered amorality of today's youth. He loses his virginity at 11 and is embroiled in dodgy deals with a Haliburton-style company while still at university (just like any typical young Midwesterner, I guess). Family friend/rival Richard Katz, a rootless, semi-famous musician, rounds out the main cast. He exists mainly to share Franzen's inside dope on fame and celebrity culture, and to regularly remind female readers that even middle-aged men assess (and dismiss) women primarily in terms of their sexual appeal. Personally, I think Franzen could have made a lot of the same points without making his characters and their circumstances so extreme. A little bit of subtlety would not have gone astray. And there is a misanthropy bubbling underneath Franzen's words that is hard to take in such a long book. Having said all that though, there is something very compelling in the way Franzen writes. Otherwise, I could not have persisted through 600 pages with such a shallow crew of characters. There are sentences in <i>Freedom</i> that are almost breathtakingly good. But, on the whole, this novel is more about style than substance.
Review by roblong
16/06/2015
The good bits of this are really great - Patty, Walter and Richard are brilliantly drawn characters, frustrating and (occasionally) likeable but always believable. It has big ambitions, which is a good thing in itself, but the 'way we live now' discussion is filtered through the story effectively so it doesn't drown out the narrative. It's thought provoking not just about political and social matters but about how we individually live - who we marry and why, who we make friends with, how we compete against each other etc. More than any book I've read in a fair while, I found it challenging in quite a personal way.Three downsides I think, one of which is a bit harsh because it's a side effect of the presence of great characters - Joey is slightly less convincing than the others, which wouldn't matter so much in another novel, but when up against the three main characters some of his actions and the reactions of others to him slightly grate. I also thought he was a bit too clearly symbolic of a certain strain in American life - cocksure until 9/11, thrown off course by it, then regaining some swagger in the Iraq war before running aground there as well.The other problems - a lot of the sections felt slightly too long, slightly overwritten. Never massively, but just enough to be an irritant. The more serious issue is the lack of humour and verve in the book. The Corrections isn't cheerful and its characters aren't too likeable, and I empathised with Walter more than any of the characters in it, but I found it entertaining and compelling in a way that Freedom isn't. Light and humour aren't absent, but there's a heaviness across the book that stifles it. Miserable, grimly compelling books are no bad thing, but here the grimness was more repelling than entrancing.