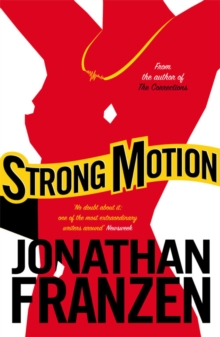 Description
The critically acclaimed second novel from the author of `The Corrections'.`Strong Motion' is the brilliant, bold second novel from the bestselling and critically acclaimed author of `The Corrections' and `Freedom'.
Louis Holland arrives in Boston in a spring of strange happenings - earthquakes strike the city, and the first one kills his grandmother.
During a bitter feud over the inheritance Louis falls in love with Renee Seitchek, a passionate and brilliant seismologist, whose discoveries about the origin of the earthquakes complicate everything.
Potent and vivid, `Strong Motion' is a complex story of change from the forceful imagination of Jonathan Franzen.
Information
Format: Paperback
Pages: 528 pages
Publisher: HarperCollins Publishers
Publication Date: 05/05/2003
ISBN: 9781841157498
Free Home Delivery
on all orders
Pick up orders
from local bookshops
Reviews
Showing 1 - 5 of 5 reviews.
Review by gazzy
16/06/2015
really this book should get 3 to 31/2 stars but is given 4 because of the power of Franzen's prose. The writing is so good it is easy to get lost in it and forget that the characters are bland. With a somewhat slow middle the end picks up to a satisfying climax.
Review by whirled
16/06/2015
What can be challenging about even the best of Jonathan Franzen's fiction is that his characters often seem to go so far out of their way to do the stupid or cruel thing. One of his earlier works, <i>Strong Motion</i> shows that Franzen's extraordinary writing skills were already in evidence, but his characters are so repulsive that they are simply unbelievable. An epic tale of seismology, love and corruption, the book is better suited to readers who have already acquired a taste for Franzen's cynical worldview.I should also acknowledge that I kept picturing the protagonist Louis Holland as Napoleon Dynamite, and so struggled to see him as a plausible romantic hero. Even without that point of reference, he's a horrible character. The idea of two women competing for his affections was ridiculous. It was just one of many things about this story that left me thinking, "But, why, why, WHY?"
Review by miriamparker
16/06/2015
I finally made my way through this vast, amazing epic of a book. I know that I often say that I loved books here. But this one is different, for one thing, it convinced me that Jonathan Franzen is a prescient genius (something I was decidedly not in agreement with before I picked this up). The writing is so precise and dense, yet compelling and readable at the same time. The issues he tackles are huge (coming of age after college, love, commitment, the relationships between parents and their adult children, abortion, corporate greed, environmental hazards), but the characters that he uses to portray them are uncommonly deep.There are echoes of so many things in here, most clearly (to me in any case, I am so sure that Franzen is eighty million times smarter than I could even ever THINK myself to be that I won't even begin to dissect what he has actually DONE here because it's really undissectable) White Noise and Henry James, but all of those echoes are so well-placed that they make the book feel more alive than derivative (like my least favorite "reference" book The Hours which is just a stupid gimmick pulled off by a smart writer in my opinion).Caveat: there is a good bit of whining about "what will I do with my life" kind of things and one can kind of feel the author going through this dilemma as his characters do. If this BOTHERS you, then perhaps wait on this book. I think this book should be required reading for everyone graduating from college, and everyone who has ever felt lost, small, identity-less and powerless. So, anyone smart should read this book. And spend lots of time with it. I am notoriously impatient and I have spent the last month with this novel to great effect. Well worth the time it requires of you.
Review by tixylix
16/06/2015
I was looking forward to reading this novel because I had enjoyed The Corrections and more recently Freedom and both were gripping reads. However, I was disappointed by this book. I took it away on holiday so all the conditions for getting into a good book were right: waiting at airports, flights, lie ins and lazy days with plenty of time to read...but despite all this I really couldn't get into it for a long time and had to make myself persevere with it. I did get into it eventually - once I'd got back from my holiday - and the determination to finish it took a back seat sort once I became interested in the story. As with the other Franzen books I've read, the characters are not very likeable: Louis, a disaffected, disinterested, morose and rude young man, becomes involved with Renee, an intelligent but self-hating insecure Harvard researcher. When a series of small earthquakes hits the town they live in, theories of what is causing them begin to surface and Louis and Renee pursue them with dangerous results.The book's title is repeated endlessly throughout. I don't think it was a case of when you notice a word once, you then notice it a lot subsequently - it really was used a lot and in relation to earthquakes as well as sex etc. The hatred and self-hatred evident in many of the characters was depressing and although the female characters were intensely dislikable, the male ones weren't much better.The book was overlong and indulgent in its descriptions but despite all this, there is a good plot and I don't regret spending time reading it.
Review by oldblack
16/06/2015
I enjoyed this book very much. I really find a strong empathy with Franzen's cynical perspective on America, families, religion, relationships, etc. He has a very perceptive eye on American society and can write about his observations in a readable and interesting way. The story is complex enough to maintain interest but not so complicated that it's hard to follow. My only criticism is that I prefer plots that are closer to real life, but that's just a genre preference rather than any negative comment on his work.