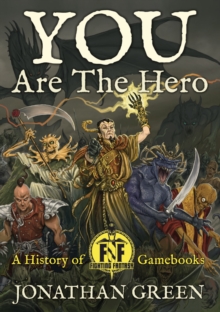 You are the Hero
Paperback
Description
Fighting Fantasy gamebooks have sold over 17 million books worldwide, in over 30 languages.
But when Steve Jackson and Ian Livingstone sat down to write The Warlock of Firetop Mountain they had no idea this one book would go on to spawn another eighty or more titles, and have an immeasurable impact on a generation of children growing up in the 1980s.
Part history, part celebration, YOU ARE THE HERO chronicles more than three decades of Fighting Fantasy.
Written by Jonathan Green (author of seven Fighting Fantasy titles), this mighty tome will appeal to anyone who ever wiled away a washed-out summer holiday with only two dice, a pencil, and an eraser for company.
Information
Format: Paperback
Pages: 272 pages, Halftones, unspecified; Line drawings, black and white; Halftones, color; Halftones, blac
Publisher: Snowbooks Ltd
Publication Date: 07/09/2014
Category: Fantasy
ISBN: 9781909679368
Free Home Delivery
on all orders
Pick up orders
from local bookshops
Reviews
Showing 1 - 1 of 1 reviews.
Review by SELindberg
27/08/2015
THE ORIGIN OF GRIMDARK CHRONICLED: many cite Grimdark's name as being evolved from the tagline of Game's Workshop's sci-fi brand of fiction/games: Warhammer 40,0000. The tagline follows: "In the grim darkness of the far future, there is only war." Of course, GW also produces the fantasy Olde World line up too (medieval fantasy). Check out GW's Black Library for their books. So before Warhammer 40,0000, what did GW produce? What spawned this tagline of Grim Darkness? The answer: Fighting Fantasy. Its development is chronicled in a new book, and the series has been revived in App/eBook form. My gateway into the Sword & Sorcery genre was most likely the Fighting Fantasy books (choose-your-own-adventures + dice) created by Steve Jackson and Ian Livingstone in the early 1980's (Games Workshop founders; these two would then co-found Warhammer). Before personal computers & smart phones could satiate the need for solo adventuring on the go, these books rocked. They were full of disturbing illustrations that still haunt me to this day (see blogpost on evolving Fighting Fantasy books). Interestingly, select ones (like Warlock of Firetop Mountain and Steve Jackson's Sorcery) are now available on Kindle from Worldweaver and iTunes by Tinman games. The tablet evolution has revitalized these game books, check them out! Ostensibly marketed toward the young adult crowd, these are full of darkness. The artwork of the Games Workshop has always been top notch. The corpse image from Section 122 of The Warlock of Firetop Mountain has haunted me for two decades! Jonathan Green, author of many novels including those under the Warhammer and Fighting Fantasy brands, recently led a Kickstarter campaign to create a history book detailing how these adventure books evolved. This 2012 effort was successful, and the print and eBook copies are now available. The resulting book You Are The Hero (YATH) is 272 pages of illustrated goodness, with insights from authors, publishers, and artists. John Blanche, currently Games Workshop's art director and "the man responsible for coming up with the look of the worlds of Warhammer and Warhammer 40,000" (p45 YATH) explicitly addresses the evolution of Grimness:"The FF books were the early thoughts about fantasy needing to be dark and grim that became more fully developed in the worlds of Warhammer – and it is still happening today. The punk thing is a tribal street visual that pervades all history as far back as you wish – it's a hint of shamanism, tribalism, barbarism, etc. People relate to that in a very enthusiastic manner. Fantasy is not about fairies and golden knights but about guys with shaved heads and zombies and a multitude of macabre horrific nastiness." (p52, You Are The Hero, 2014)Diehard Grimdark aficionados will hunt down The Zagor Chronicles, a series of four 1994 novels which FF fan Lin Liren found The Zagor Chronicles to be, "surprisingly grim, bleak and brutally violent for novels aimed at a 13-15 year-old audience, and the bittersweet ending is unforgettable." These seem expensive and obscure--I'm hunting for these myself.