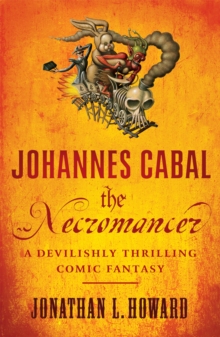 Johannes Cabal the Necromancer
Paperback
Description
The start of a fantastic new series. Johannes Cabal has never pretended to be a hero of any kind.
There is, after all, little heroic about robbing graves, stealing occult volumes, and being on nodding terms with demons.
His purpose, however, is noble. His researches are all directed to raising the dead.
For such a prize, some sacrifices are necessary. One such sacrifice was his own soul, but he now sees that was a mistake - it's not just that he needs it for his research to have validity, but now he realises he needs it to be himself.
Unfortunately, his soul now rests within the festering bureaucracy of Hell.
Satan may be cruel and capricious but, most dangerously, he is bored.
It is Cabal's unhappy lot to provide him with amusement. In short, a wager: in return for his own soul, Cabal must gather one hundred others - in one year. One year to beat the Devil at his own game. And isn't that perhaps just a little heroic?
Information
Format: Paperback
Pages: 352 pages, Chapter illustrations
Publisher: Headline Publishing Group
Publication Date: 01/01/2010
Category: Fantasy
ISBN: 9780755347858
Free Home Delivery
on all orders
Pick up orders
from local bookshops
Reviews
Showing 1 - 3 of 3 reviews.
Review by phoebesmum
16/06/2015
Johannes Cabal has sold his soul to the devil, and now he wants it back. So far, so familiar. After some persuasion, the devil furnishes Johannes with a travelling carnival (as you do), a remit to bring him a hundred new souls in exchange for his own, and a deadline of one year. The devil being a man of his word, what could possibly go wrong?This is rather an oddity. The book itself isn't bad – it's decently written, moderately clever, darkly funny in places, not entirely unoriginal – but it's wholly unengaging. The fault for that has to lie with Johannes himself, who not only has no soul, he has no personality either. When the devil outshines your leading man, you know you're in trouble. The opening scenes in Hell are rather excellent, but after that it's all downhill. I shan't be reading the sequels.
Review by AHS-Wolfy
16/06/2015
An awkward start to the story sees Johannes Cabal try to get his soul back from Satan to whom he exchanged it for necromantic skills. Satan agrees by way of a wager, Johannes must get a hundred souls to exchange for his own with a time limit set for one year. Satan will furnish a carnival to help him in his undertaking. If he wins the bet then Johannes gets his soul back, if he fails then he loses his life. By chapter three things pick up a little with the arrival of Johannes' brother, Horst, and chapter four had me laughing out loud at one point and by then I was hooked. Johannes is a driven character, not particularly that likeable, but often darkly humorous and the ending gives reason to his obsession with death and trying to outwit it. As the year passes and the souls are collected the tension rises can Johannes collect the 100 that he needs and at what cost? Will Satan ever play fair? (easiest question in the world to answer) And how will it all turn out as the year reaches its conclusion?So, a lead character who isn't particularly a nice chap yet you end up rooting for him in his quest which is quite an achievement by the author and is mainly achieved by the dark and intelligent humour. A lot of the back story is only hinted at or quickly glossed over as are the actual collection of the majority of souls but this makes for a quick read and you don't feel short changed with these at all. I will certainly be continuing with the series as it will be interesting to follow the further adventures of this particular necromancer.
Review by psutto
16/06/2015
GoodCabal has sold his soul in return for knowledge yet finds it tricky to perform some of his necromantic experiments without it. He therefore summons a demon, goes to hell and bargains with Satan to return his soul, the catch is that he has to collect a 100 souls on behalf of Satan in 1 year. To help him out Satan gives him a Hellish Carnival. This is a fun book and I loved that it is more than a comedy, although it is very amusing at times, it does pose some serious questions and there is clearly more to be explored, hence the fact there are several more books in the series. Cabal's voice is pitch perfect and although he is fundamentally unlikable he is also a surprisingly sympathetic character. His relationship with his brother Horst is both real and poignant even if it is a comedic novel. I loved the idea of the carnival, and the individual rides within it, and some of the demonic interplay, especially the bureaucracy of how to enter Hell is very entertaining. There are a few wobbles, possibly due to this being a first book, that I expect will be ironed out as the writing develops in further books. It is obviously not stand alone, although like any good book in a series it has a satisfying story and yet not everything is answered.Overall – Having read the first I obtained the next two and am really looking forward to reading them soon.