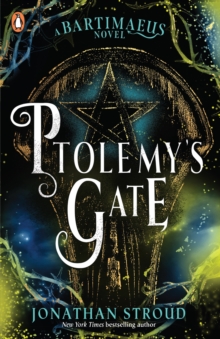 Description
The tremendous climax of the Bartimaeus sequence. Three years on from the events in The Golem's Eye, the magicians' rule in London is teetering on a knife-edge, with strikes, riots and general unrest.
The Prime Minister is largely controlled by two advisers, one of whom is 17-year-old Nathaniel.
Meanwhile, living under a false identity, Kitty has been researching djinn; she has come to believe that the only way to destroy the magicians is with an alliance of some kind between djinn and ordinary people.
Kitty seeks out Bartimaeus and embarks on a terrifying journey into the djinn's chaotic domain - the Other Place - which no human being has ever survived.
But even as she does so, Makepeace engineers a dramatic coup d'etat.
The outcome is a shattering of the magicians' control and all magical laws are turned upside down.
Can Bartimaeus, Nathaniel and Kitty settle old scores if they are to survive and prevent the earth's destruction?
Information
Format: Paperback
Pages: 528 pages
Publisher: Random House Children's Publishers UK
Publication Date: 01/10/2010
Category: Fantasy
ISBN: 9780552562805
Free Home Delivery
on all orders
Pick up orders
from local bookshops
Reviews
Showing 1 - 1 of 1 reviews.
Review by passion4reading
16/06/2015
After a continuous spell on Earth for two years, the djinni Bartimaeus is weakened and no longer the imposing presence he once was; no longer is he in possession of astonishing levels of power, even if he still displays the usual very sharp tongue and acid sarcasm. Following his success with the golem, Nathaniel has been promoted to Information Minister and now sits on the Council with the most senior government magicians, churning out pamphlets to sell the necessary war with the American colonies to the commoners, who are mostly providing the cannon fodder. Meanwhile, Kitty Jones has taken on not just one, but two secret identities and managed to get access to magicians' books and libraries, pursuing a plan of her own. But a traitor with links to the government has hatched a terrible plan, and it falls to Nathaniel, Kitty and Bartimaeus to put their differences aside and act together to repel the threat to London and the rest of the country.Even though it takes a long time to get moving properly (around 200 pages), when it does, it does so at a frenetic and breathless pace right to the end, and what an explosive ending it is. Hat off to Jonathan Stroud for manipulating my emotions to skilfully: amid the sheer horror, Bartimaeus keep his head and often injects some much-needed lightness and humour into the rather dark proceedings, which also display some unexpected poignancy at the end. The author leaves us in no doubt that this is the end of the adventures with the three unlikely allies and I will miss them all, though I might return to hear Bartimaeus's inimitable voice once again in The Ring of Solomon (written after Ptolemy's Gate, this is a prequel). Now I just need to get my breath back after exhausting myself following them around and watching them stumble from one scrape to the next.