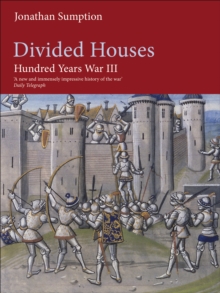 Hundred Years War Vol 3 : Divided Houses
Hardback
Description
"Divided Houses" is a tale of contrasting fortunes.
In the last decade of his reign Edward III, a senile, pathetic symbol of England's past conquests, was condemned to see them overrun by the armies of his enemies.
When he died, in 1377, he was succeeded by a vulnerable child, who was destined to grow into a neurotic and unstable adult presiding over a divided nation.
Meanwhile France entered upon one of the most glittering periods of her medieval history, years of power and ceremony, astonishing artistic creativity and famous warriors making their reputations as far afield as Naples, Hungary and North Africa.Contemporaries in both countries believed that they were living through memorable times: times of great wickedness and great achievement, of collective mediocrity but intense personal heroism, of extremes of wealth and poverty, fortune and failure.
At a distance of six centuries, as Jonathan Sumption skilfully and meticulously shows, it is possible to agree with all of these judgments.
Information
Format: Hardback
Pages: 1024 pages
Publisher: Faber & Faber
Publication Date: 19/03/2009
Category: European history
ISBN: 9780571138975
Other Formats
Paperback from £16.29
EPUB from £13.59
Free Home Delivery
on all orders
Pick up orders
from local bookshops
Reviews
Showing 1 - 1 of 1 reviews.
Review by DinadansFriend
16/06/2015
This is the best synthesis of a terribly confusing conflict. Of the three volumes published so far, this book is the most challenging. It is a competent review of the period that succeeded the great English victories of Edward III. But it has a sad tale to tell from the English point of view. Edward II, worn out, retires from the active command. His successors are lesser men, incapable of completing the conquest of France. Into the bargain, no battlefield successes means no flow of ransoms to fuel the military machine, or keep up morale in the face of a successful French guerrilla War.The French have learned to avoid pitched battles, and substitute surprise attacks on the cities and castles held by the English. In addition, Flanders is worn down by the constant pressure exerted by the Dukes of Burgundy, who is busily expanding his appanage. the matter of Brittany leads to fruitless but expensive English expeditions, and are coupled with John of Gaunt's wasteful attempts to secure the throne of Castile. Nothing works, Edward dies,,, and is then replaced...er...succeeded by Richard II. Volume three of this the work remains a triumph due to the depth of learning and narrative skills that Jonathan Sumpton brings to the task.